Genetically modified mosquitoes to the rescue in Brazil
Comments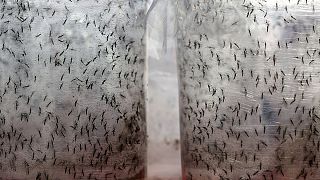 Scientists in Sao Paulo in Brazil have released up to 100,000 genetically modified mosquitoes in an attempt to tackle an epidemic of Dengue Fever.
Over 8000 cases have been recorded this year in the city.
The initiative works by injecting male mosquitoes with a modified gene.
When the males mate with a female carrying Dengue, the resulting offspring fail to reach adulthood, thus suppressing the outbreak.
Over 800,000 of the modified mosquitoes are to be released over the next 10 months.