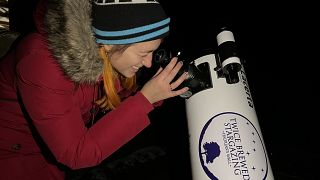 -
Copyright

Hannah Brown / Euronews Travel
I grew up in the countryside, but as a kid you never really appreciate the beauty of your surroundings.
And as an adult I've spent so much time living in big cities I forgot how incredible a starry sky can be. Light pollution doesn't make for good stargazing.
But did you know, the largest gold-tier dark sky park in Europe is in the North of England? It's also the fourth largest in the world.
I went to the Twice Brewed Inn in the Northumberland National Park to experience its new planetarium and to see the stars there for myself.
Why is Northumberland so good for stargazing?
On the Bortle dark sky scale, where one is black and nine is a bright city sky, Northumberland International Dark Sky Park is somewhere between two and three. This means there's lots to see, including the Milky Way.
My evening was led by Wil Cheung, a stargazer, photographer and self described aurora chaser. His enthusiasm and knowledge was both impressive and infectious.
After an introductory talk where we learnt about what we can see in this area, the science behind it and how to get the timing right, Wil led us into the new purpose-built planetarium at Twice Brewed.
The dome is filled with bean bags and deck chairs for visitors to get comfy and enjoy the experience. There's enough space for 45 people inside, but they tend to limit group sizes to 30 to make it a more intimate and enjoyable viewing.
Though Wil's weather tracking and predicting skills are second to none, if the conditions are unfavourable to see the stars outside, visitors can explore the night sky inside the immersive planetarium instead.
Can I see the northern lights in Northumberland?
If you're interested in seeing the stars, you're probably dying to see the northern lights too. And you don't necessarily need to fly all the way to Iceland to fulfil this dream.
As a basic rule of thumb, the further north you go, the better the display. But it's not always quite that simple when choosing a place to go aurora chasing, says Wil.
You need to think about what light pollution might be on the horizon looking north. So even if you travel all the way up Scotland but are just south of Inverness, the city glow will spoil any chance you've got of seeing the northern lights.
The Twice Brewed Inn is situated in the south of the Northumberland International Dark Sky Park which means you've got miles and miles of dark skies to the north to see the aurora borealis.
It's also the perfect time to go aurora-chasing. The sun is on an 11 year cycle, due to renew in 2024, and with this cycle come solar flares which cause incredible aurora displays.
From now for the next three years, there are going to be lots of occasions to spot the northern lights.
When is the best time to go stargazing?
Many of us think winter is the best time of year to go stargazing because of the long nights. But that isn't necessarily true.
"Depending on the season, you see different objects," explains Wil.
"During the summer months, there are lots of things in the skies like the summer triangle and Scorpio - it's a really awesome constellation to look at and you can't see it during winter."
If you want to see the stars in summer, you'll need to stay up a bit later as the skies around Twice Brewed stay light until late into the evening due to its latitude.
Why should I go stargazing at Twice Brewed Inn?
I had a lovely evening stargazing with Wil at Twice Brewed. The night sky really is an incredible sight to see. I also learnt there are 400 billion galaxies in the visible universe, so I'm not going to run out of things to see any time soon.
The inn has around 20 telescopes for visitors to use, meaning I only had to share mine with one other person, which really made the experience.
The sky and its visibility can change very quickly with fast-moving clouds but with Wil's deft ability to line up your scope, everyone was able to see everything.
Hannah Brown was a guest of Stargazing at Twice Brewed Inn.
Watch the video above to see more of my stargazing experience.