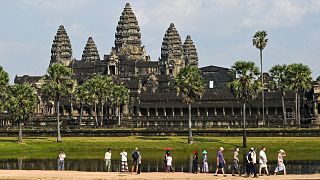 -
Copyright

TANG CHHIN SOTHY / AFP
Chan Vichet lives and works just 500 metres from the Angkor Wat temple in Cambodia. He has been here for seven years, drawing inspiration from the surroundings to create paintings he sells to tourists.
But soon the artist and 10,000 other families will have to leave the UNESCO World Heritage Site.
"Since I heard about the relocation plan, I feel numb," said 48-year-old Chan.
"I'm struggling to support my family, but I don't have my concentration or creativity anymore."
They are being evicted from the famous archaeological site by the Cambodian government.
It says the settlements lack the infrastructure and sanitation they need, and with visitor numbers expected to rise now pandemic travel restrictions are over, it aims to clear them within the next four months.
"Despite them being here illegally, the government is doing a lot of things to support their livelihoods," Long Kosal, a spokesman for the Apsara National Authority, which manages the archaeological park, told AFP.
"The area here can not allow such unorganised settlement and there is very poor (sanitation)."
How many people live in Angkor Wat?
A boom in tourists wanting to explore Angkor Wat's ruined temples, half-swallowed by the jungle, has led to an increase in the number of food and souvenir sellers. The population has exploded.
In 2013, around 120,000 people lived in the 400 square kilometre protected area. This is six times the number of people that lived there just twenty years earlier.
Angkor Wat welcomed more than 2 million foreign visitors in 2019 and is now preparing for the return of tourists with the end of COVID-19 travel restrictions.
In September, Prime Minister Hun Sen warned that "in the future, Angkor Wat will be removed from the World Heritage Site" if it is not well protected.
The government says population growth is a problem because it generates excess waste and the people living there use excessive amounts of water.
They intend to reforest the areas where there were previously makeshift homes, many without running water or electricity.
But UNESCO says, though it raised concerns about the risk of urban development, it "never called for population displacement".
The agency's guidelines say relocations should be carried out with the consent of the population concerned, and that local communities should be the primary beneficiaries of tourism from heritage sites.
Where are Angkor Wat's residents being moved to?
Once Chan's house is demolished, he will have to move his family to Run Ta Ek, 25 kilometres away and far from the routes taken by tourists. Like many others, he faces closing his business and worries about his income.
The relocated villagers have been given a plot of land where they will have to build their own houses. Authorities have also promised a school, clinic, a covered market and other community buildings.
51-year-old Heav Vanak lost his leg to a landmine.
"I don't have enough money to buy the materials to buy my new house," he says, watching his grandson play in the dust under the tarpaulin of a construction site.
"We are powerless. How can we protest?"
A spokesperson for Apsara says "this is a liveable place". They insist that the families are "happy to move" pointing to local job prospects such as the planned opening of a new airport in Siem Reap.
But the relocated residents aren't the only ones that are unhappy. Long-time residents of Run Ta Ek say the land given to the families from Angkor Wat will have an impact on their livelihoods.
"Before, we grew rice and earned enough for our family," says Horn Ravuth, a 41-year-old third-generation resident.
"Now we can only raise chickens and ducks, and it doesn't pay enough. I also have a loan from the bank."
Watch the video above to learn more about the relocation of Angkor Wat's residents.