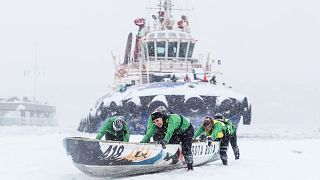 -
Copyright

Alexis Aubin / AFP
Canoes line up at the foot of Old Quebec City in Canada. 50 teams are getting ready to brave dangerous ice slabs and swirling currents.
A signal goes off and they launch onto the frozen surface of the river, using metal studded shoes to push the boats.
This isn't an expedition or rescue mission. These athletes are taking part in the extreme sport of ice canoe racing.
The 3.2-kilometre race is part of the Quebec Winter Carnival which is one of the biggest cold weather festivals in the world. Known locally as simply 'Carnaval' it brings thousands of people to the province every February.
But the 10-day-long festival is more than just a giant party. The first Carnival was held in 1894 and it became an annual tradition in 1955.
There are all kinds of activities and attractions, from local food, music and culture to events - like ice canoe racing.
The 'World Cup' of ice canoeing
After a hiatus due to the COVID-19 pandemic, athletes returned to the St Lawrence River for the first time in three years
They paddled and pushed from the port of Quebec to the city of Levis on the opposite shore of the St Lawrence River and back. Part of the course involves pushing the boats across the ice, the other paddling them through the icy waters.
"It's a bit like the World Cup" of ice canoeing, says an enthusiastic Vicki Clouet-Côté, 30, who has been involved in this extreme sport for the past decade.
Ice canoeing dates back to the beginning of the European colonisation of North America.
"It has become a sport and there is even a league," says Marie-Ève Jacob, executive director of the Québec Winter Carnival.
"So now there are canoe races all over the province of Quebec."
Quebec's ice canoe race is a must-see event
As a team endeavour, success is above all about strategy, claims Yves Gilbert, a veteran of the sport.
"It's generally not pure physical strength that counts, it's more the strategy, the way of approaching the ice."
And this year, competitors faced particularly harsh conditions. There was heavy snowfall, reduced visibility and temperatures approaching -20°C. Still, some wore no hats or gloves in the extreme conditions.
"It was absolutely crazy. If you've never seen it, you should come here and see it," says Bill Mcguinn, a spectator who travelled from New York to watch the race.
Watch the video above to see Quebec Winter Carnival's ice canoe race.