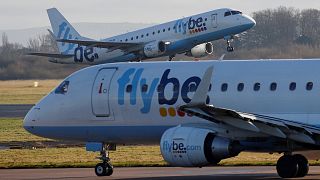 -
Copyright

REUTERS/Phil Noble/File Photo
British regional airline Flybe ceased trading on Saturday (28 January) for the second time in three years. All flights were cancelled and 276 workers were made redundant.
A statement on Flybe's website said the airline, which operated scheduled services from Belfast, Birmingham and Heathrow across the UK and to Amsterdam and Geneva, had entered administration - a form of protection from creditors.
"Flybe has now ceased trading and all flights from and to the UK operated by Flybe have been cancelled and will not be rescheduled," it said.
It advised people due to fly not to travel to airports.
A spokesperson for administrators Interpath Advisory said about 75,000 Flybe customers had future bookings that would now not be honoured.
What should you do if your Flybe flight is cancelled?
The UK Civil Aviation Authority (CAA) says that if you booked directly with Flybe and paid more than £100 (€125) using a credit card you may be able to get your money back under Section 75 of the Consumer Credit Act. You should contact your credit card company for more information. 
Similarly, the CAA says that if you paid by debit card or credit card under £100 (€125), you should contact your card issuer as you might be able to make a claim under their chargeback rules. This means your bank refunds the money as it was spent on a service that has not been or won't be provided. 
It's a voluntary scheme but most major UK card issuers are signed up for it. They may ask for something called a negative response letter which can be found on the CAA's website.
If you booked through a travel agent, it's best to speak to them first as they may have insurance which covers this and will be able to inform you of their refund process. 
Can I book with another airline?
Rival airlines are now making 'rescue fares' available to people who have tickets booked with Flybe.
British Airways is offering one-way fares of €60 (plus taxes, fees and charges) on some routes including a checked-in bag of up to 23kg. These can be booked by Flybe customers due to fly between London and Belfast, Newcastle or Amsterdam. Passengers will need to call British Airways to make these bookings. 
Ryanair is offering fares starting at £29.99 (€34) to customers affected by Flybe cancellations. Families that booked to travel on now-cancelled journeys can travel on one of the low-cost carrier's flights including routes from Belfast to East Midlands, Manchester and London Stansted. Bookings can be made on the Ryanair website. 
Flybe customers can also travel with easyJet which is offering £49 (€56) fares for domestic routes and £79 (€90) fares for international routes. These include a 15kg checked-in bag and are available if you present your original Flybe booking. 
These easyJet flights are available until 5 February and you will need to call the airline's customer service line to make a booking. 
What happened to Flybe?
Headquartered in Birmingham, Flybe operated flights on 21 routes to 17 destinations across the UK and Europe using a fleet of eight leased aircraft.
David Pike and Mike Pink from Interpath were appointed joint administrators to Flybe.
Pike said Flybe had struggled to withstand a number of shocks since its relaunch last year, not least the late delivery of 17 aircraft which severely compromised its efforts to build back capacity and remain competitive.
He said scaled-back elements of Flybe's operating platform would be preserved for a short period while there was a possibility of a rescue transaction. He encouraged any interested party to make contact urgently.
A spokesperson for Interpath said 45 members of Flybe's 321-strong workforce had been retained for the time being.
"It is always sad to see an airline enter administration and we know that Flybe's decision to stop trading will be distressing for all its employees and customers," said Paul Smith, the UK Civil Aviation Authority's consumer director.
Collapsing for the second time in three years
Hurt by Britain's COVID-19 pandemic lockdown, Flybe first fell into administration in March 2020, impacting 2,400 jobs.
In October 2020, it was sold to Thyme Opco Ltd, a firm controlled by Cyrus Capital. In April 2022 it resumed flights, albeit on a smaller scale.
Flybe's demise contrasts with a post-pandemic pick-up in demand for air travel.
Low-cost airlines Ryanair - Europe's biggest airline - and Britain's easyJet have reported record bookings for summer holidays, indicating that consumers are still keen on trips despite a looming recession.
Louise Haigh, the opposition Labour Party's transport spokesperson, said Flybe's collapse was "devastating news" for staff and customers.
"Protection for passengers is simply not strong enough – and ministers have sat on their hands for years and failed to introduce long-promised airline insolvency laws," she said.
The Unite trade union said the government had failed to learn lessons from Flybe's first collapse.