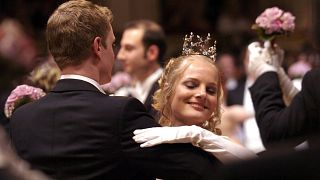 -
Copyright

JOE KLAMAR /2004 AFP
Elegant formal attire, beautiful music, and graceful dancing - a Viennese ball is a sight to behold.
Running from January to March, the ball season is the glitzy highlight of Austria's social calendar. 
Dating back to the 18th century, this enchanting tradition attracts thousands of people of all ages and backgrounds. Attendees, gather to dance, have fun and celebrate Viennese culture.
Dozens of events occur over the season - but the Philharmonic Ball is celebrated at the Musikverein concert hall - the jewel in the crown.
Who's invited to Vienna's waltz balls?
Attended by celebrities and the Austrian chancellor, the ball is truly one of Vienna's ball season highlights. "This is a very special ball, I've been here several times and I always enjoyed it," says Russian-Austrian opera singer Anna Netrebko. 
But if you can't attend the Philharmonic ball, fear not - there is no shortage of opportunities for would-be dancers to practice a waltz.
Joseph II, son of empress Maria Theresia, opened balls to ordinary people, thus making the Viennese waltz popular at courts.
The most famous balls are the Opera Ball, the Rose Ball and the New Year's Ball. Each of them attracts thousands of people from all over the world to participate in this celebration of Viennese culture.
"That's why we have 450 balls and festivities every year in Vienna alone," says Schaefer-Elmayer, dance teacher and director of the Elmayer dance school in Vienna. Each ball has a theme and is sponsored by well as a trade body. He adds  "Of course, not all of them are like this one here at the Musikverein, but every one of them is still opened with an opening ceremony with the debutantes and every time with a Viennese Waltz".
What's the dress code for Vienna's balls?
The participants usually dress elegantly for the occasion. The men wear suits and the women wear evening gowns. 
"White ties are compulsory attire at the main balls, such as the Philharmoniker Balltechniker Circle opera ball," says Schaefer-Elmayer. "The white tie is the most elegant form of dress for a gentleman in the evening, followed by a dinner jacket and then a dark blue suit."
The young dancers, so-called debutantes, who open the ball perform a 'Polonaise' dance, followed by a choreographed waltz.
Vienna balls: A historic tradition that lives on
Vienna balls are considered an essential social event in the city's cultural life, where people can mingle with local celebrities and foreign guests.
In addition to dancing, Vienna balls also offer visitors the opportunity to enjoy Viennese cuisine, local drinks, and sweet treats such as the famous Sacher cakes.
The season is a must for all those who love Viennese culture.
If you have the opportunity to visit Vienna during this season, don't miss the chance to attend one of these memorable balls.