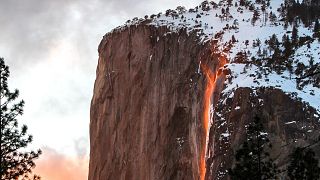 -
Copyright

Katie Rodriguez / Unsplash
California's incredible Firefall is back.
Every February, thousands of photographers and tourists flock to Yosemite National Park to glimpse a ribbon of 'lava' gushing down the imposing El Capitan granite rockface.
This famous natural phenomenon is actually a trick of the light, generated as sunlight reflects off of a waterfall.
But if you want to see the firefall, you'll have to be quick - the first batch of reservations has already sold out.
Here's how you can catch the magnificent display.
What is the firefall?
The firefall is a spectacular light show.
In late winter, Horsetail Falls is gushing with runoff from winter storms. For a few minutes every evening, the late winter sunlight hits the water at just the right angle to generate a streak of glowing orange.
The phenomenon is most pronounced around sunset when the waterfall is backlit by the sun.
In 2023, rangers estimate that the firefall will occur between February 10 and February 27. But the conditions have to be just right. If it's foggy or cloudy, the firefall effect is muted.
How can I see the firefall?
The phenomenon is very popular, and the park has suffered from overcrowding in recent years.
In 2022, a weekend permit system was introduced to combat the problem.
To snap up a ticket for Fridays, Saturdays, and Sundays, you'll have to be quick.
The first batch of park-entry reservations - released on 13 Jan - has already sold out.
The second half of the reservations will be released on a rolling basis, starting 8 am (California time) on 8 February. You can book a ticket two days before the date you wish to attend. More details can be found on the US government parks website.
You do not need a permit to enter the park Monday through Thursday. However, you will still have to pay a park entry fee, which is $35 (€32) per car.
But be aware: despite the permit system, the weekend will still be busy. On 19 Feb 2022, nearly two and a half thousand viewers gathered in the best spot to see the phenomenon.