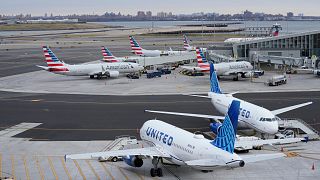 -
Copyright

AP Photo/Seth Wenig
A computer glitch grounded thousands of flights across the United States on Wednesday morning with passengers facing delays and cancellations, according to reports from US media. 
"The FAA is working to restore its Notice to Air Missions System. We are performing final validation checks and reloading the system now," the US Federal Aviation Administration (FAA) said in a statement on Twitter.
"Operations across the National Airspace System are Affected. We will provide frequent updates as we make progress." 
The FAA ordered airlines to pause all domestic departures until 9am Eastern Time (3pm CET) "to allow the agency to validate the integrity of flight and safety information".
It says that normal air traffic operations are now "resuming gradually" across the US and the ground stop has been lifted.
US President Joe Biden has been briefed about the outage with the White House Press Secretary saying "there is no evidence of a cyberattack at this point". Biden has called for a "full investigation into the causes". 
How many flights have been cancelled due to the FAA outage?
More than 3,700 flights were delayed within, into, or out of the United States on Wednesday (11 January) morning with more than 640 cancelled, flight tracking website FlightAware showed. This number is likely to grow as the knock-on effects of the disruption continue. 
Passengers at airports across the country tweeted to say they had been stranded because of the system failure. 
One social media user at Charles de Gaulle Airport in Paris said their airline had informed them that no flights were flying to America.
Many airports including Philadelphia International, Kansas City and Orlando International also posted notices on social media telling passengers to check with airlines about delays caused by the outage. 
Airlines including Southwest, United and American have also issued statements to say they are closely monitoring the situation and asking passengers to check their flight information. 
What is the FAA's Notice to Air Missions System and why has the failure caused disruption?
The FAA's NOTAM system alerts pilots and other flight personnel about hazards or any changes to airport facility services and relevant procedures.  This system was not processing updated information, the civil aviation regulator's website showed on Wednesday.
A NOTAM is a notice containing information essential to personnel concerned with flight operations, but not known far enough in advance to be publicised by other means.
Flight safety information can go up to 200 pages for long-haul international flights and may include items such as runway closures, general bird hazard warnings, or low-altitude construction obstacles.