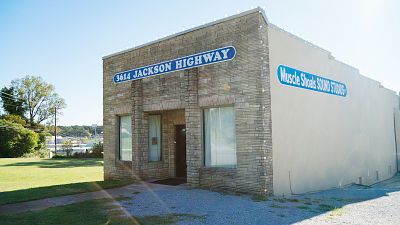 Northern-Irish singer-songwriter Foy Vance takes us to Alabama, a state that played a central role in the development of blues and country music worldwide.
You may not know much about the small town of Muscle Shoals, but it is renowned as one of the epicentres of the music industry. Both local and international musicians have recorded there.
One of the reasons for the town's notoriety is the Muscle Shoals Sound Studio: it's a small building with a big history and is certainly a must-visit for those looking to discover the musical heritage of this part of the US.
This old studio, situated in Sheffield, has been listed on the National Register of Historic Places since June 2006. It was formed in 1969 by a group of session players called the Muscle Shoals Rhythm Section, who broke away from Rick Hall's FAME Studios to become entrepreneurs and found their own recording facility.
The band, known as The Swampers, was composed of Barry Beckett, Roger Hawkins, David Hood and Jimmy Johnson. Together, they revolutionised soul, R&B, rock and country music, and became one of the best-known "house bands".
In 1969 the group worked with artists like Boz Scaggs, Lulu and Arif Mardin, and found its first commercial success with "Take a letter, Maria" by R.B Greaves which reached number two in the charts. In the same year they also famously hosted the Rolling Stones, cutting "Brown sugar", "You got to move" and "Wild horses" from their 1971 album "Sticky Fingers".
The magic of the past is still present
When you step into the Muscle Shoals Sound Studio you are transported back in time. "Basically the way you see the place set up now, it's just like it would be back then", says Colin Lott, our tour specialist and curator.
Over the years, iconic artists such as The Rolling Stones, Aretha Franklin, Wilson Pickett, Bob Dylan, Lynyrd Skynyrd and Cat Stevens, among others, recorded in this studio.
Guitars, a Wurlitzer electric piano, Fender amps, a black baby grand: each of the instruments in the studio has a story. One of the greatest treasures in this historic place is to be found in the control room, separated from the studio floor by a glass window. It's an API mixing console, designed for Chet Atkins. It used to belong to RCA Studio B in Nashville and has recorded icons like Elvis, Johnny Cash and Roy Orbison.
Visiting the studio
In 1979, Muscle Shoals Sound moved across town, to 1000 Alabama Avenue and eventually ceased its activities in 2005. It was around the same time that the original studio situated at 3614 Jackson Highway, started to be authentically restored and on January 2017, the legendary place reopened for tours.
"We're one of the historic Muscle Shoals studios that is actually open to the public full time, six days a week for tours, and we're also still an active studio", explains Colin Lott.