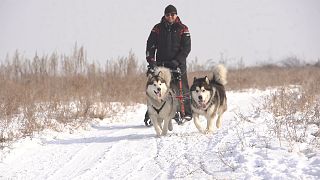 Dog sleighing is developing gradually in Kazakhstan. In the steppe surrounding Almaty, Svetlana Khudyakova takes care of her family's dogs, training them to run with the sleigh. She also works to help encourage the sport in the country which remains in its infancy.
"The federation was established in January 2018, in April we received the IFSS - International Federation of Sleddog Sports, membership. Our athletes are not that experienced as our federation is still young. In August we went to Omsk to gain more experience. Now we are actively developing the sport in our country. We are trying to attract people who have dogs so they can be proactive and love their pets, give them what they naturally need."
The sleigh is pulled by one or several dogs travel over ice and through snow. Svetlana says they begin to teach the dogs how to pull a sleigh when the dogs are about a year old.
"The dogs can only start sledding after one year. After that we start their training. They're paired with more experienced dogs. This is for safety reasons, as we have to take into account the weight of the sleds, the dogs, the harnesses, we have special formulas to do that and only then can we determine what weight the dogs can handle."