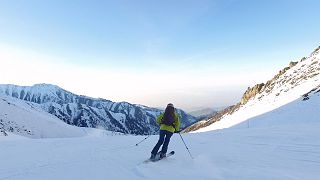 Shymbulak in Kazakhstan is a kingdom for winter sports. For example a paragliding flight in winter lasts around 15 minutes, but in summer you can stay airbourne at least half an hour - an experience you will always remember.
"Shymbulak is the highest point in Kazakhstan for paragliding. The height is 3,200 meters and we land at around 1,600 meters. It's the highest and longest flight and we are flying amid high mountains. I have been flying for 30 years, since I was a child. I always wanted to become a pilot and I once read in a book that paragliding is a small step into the big sky, and that's how I got into it."
Evgeny Oreshkin, Samuryk Flying School Director
In addition to paragliding, Shymbulak has some of Kazakhstan's best slopes for skiing, while you can also go ice skating in nearby Almaty itself. The Medeu skating rink in the city is the highest in the world at 1691 metres. It is a real temple of sport, where no less than 125 world records have been set.