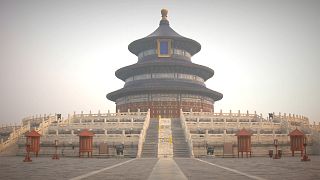 The sky is round, and the earth flat. When The Temple of Heaven, one of the most sacred places in China, was completed in 1420, this is how the universe was conceived. The Temple of Heaven is located in a beautiful park in South Beijing, a verdant lung for the Chinese capital. The emperor used to come here to pray for good harvests, and thank the heavens for them.
"In ancient Chinese culture, the number nine represented 'the highest' and symbolized 'the emperor'. In the Temple of Heaven, the number 9 is everywhere, as it is represented on the stairs that lead to it," explains Euronews' Aurora Velez.
Everything is symbolic in this architectural complex composed of The Hall of Prayer for Good Harvests, the Imperial Vault of Heaven and the Circular Mound Altar. Around it, 4000 cypresses soar skywards, representing the union between heaven and earth.
Folklore Expert Tao Lifan explains the configuration of the temple's interior columns.
"Inside the temple, there are three circular sets of columns. Four columns symbolise the seasons in the first; the second one has 12 for the months of the year, and the third 24, for the harvest periods."
The Temple of Heaven was used during the Ming and Qing dynasties and has been part of Unesco's World Heritage since 1998.
Top tips for visiting the Temple of Heaven
The Temple of Heaven's Director of Communication Xing Qixin has the lowdown on the way round: despite the site stretching over nearly three square kilometres, with 30 to 40,000 visitors every single day, Tiantan Park can get very busy.
"My first tip is that the best time to visit the Temple of Heaven is during the most beautiful season in Beijing: Autumn. During the day there are two peak visitor times. The first is at 10 am and the second is at 3 pm. So it's best to avoid these times to experience the Temple of Heaven at your own pace.
My third tip is to arrive at the Temple's East gate, because there are many public transportation options," he says.