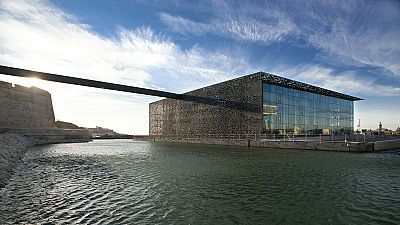 Located in the heart of the Mediterranean basin, Marseille is the oldest city in France. With influences from both the Greek and Roman Empires, the city's history spans 2600 years old. A figure equally impressive as the amount of days per year the sun shines over it: 300. Marseille's uniqueness lies on its diverse population and landscapes. Something that is reflected on the city's vibrant atmosphere. We put together a curated travel guide blending old and new spots to eat, see, shop and pamper in town like a local.
This one-of-a-kind steakhouse opened last November and has been packed ever since. Ran by Chef Francois Vallette, a self-taught cook who started off as a waiter, this restaurant serves meat from all over the world in a contemporary decor. Its secret: a coal-fired oven (coal translates into charbon in French) that heats up to 400 degrees and sublimates the meat. Enjoy a house cocktail and share a Spanish Galice rib eye steak, the chef's favorite. "Its grease is as noble as foie gras", he explains "they live by the sea and eat oak nuts, that's why their meat is so tasty". And you can trust him, the man knows his beef. Chez Charbon : 127 Rue Sainte, 13007 Marseille
This vintage hardware store located in the up and coming Noailles neighborhood specializes in traditional workear made in France (denim from the Marine, fishermen's jackets by "Le Mont Saint-Michel"). The must-have is the renowned Provençal hat French designer Jacquemus featured in his SS17 Show, which you can acquire for a cheap 54€. Simon Porte Jacquemus, originally from Marseille, is actually a regular customer of the shop. Maison Empereur : 4 Rue des Récolettes, 13001 Marseille
The Museum of European and Mediterranean Civilisations, designed by Rudy Riciotti and Roland Carta, is one of Marseille's must-sees. Over and above the collections on display, the site has established itself as a new public space offering unrestricted and free access to the impressive outdoor area of Fort Saint-Jean. From June 20th to November 12th 2018, the Mucem will be hosting Chinese multi-disciplinary artist Ai Weiwei. This photographer, architect, sculptor, performer, film-maker and social network activist is the son of Ai Qing, the Chinese poet who discovered the West in 1929 on disembarking at Marseille, on the docks of La Joliette, and precisely on the spot where MuCEM is located today. Catch his exhibition and then take a seat on the terrace, the best spot to enjoy a bit of sun and shade, behind its world-famous mashrabiya. MuCEM : 7 Prom. Robert Laffont, 13002 Marseille
The Vieille Charité
This old chapel in the Panier area, a stone throw away from the Mucem, houses the second biggest collection of Egyptian antiques after the Louvre. Until June 24th 2018, it holds the exhibit "Picasso Voyages Imaginaires" as part of the "Picasso Méditerranée" cycle, a multifaceted and multidisciplinary dynamic cultural cycle from 2017 to 2019, all along the French Mediterranean coast. At the initiative of the Picasso-Paris National Museum, this journey in the artist's work and in the places that inspired it offers an unprecedented cultural experience, wishing to strengthen ties between all the shores : they offer all a singular and renewed approach of the Picassian work under the Mediterranean prism. Vieille Charité : 2 Rue de la Charité, 13002 Marseille
For years now, this restaurant has stayed undefeated and is hands down the best Italian place in Marseille. Established near Cours Julien, an area well-knowned for its street-art murals, "La Cantinetta" offers a fresh cuisine with daily chef suggestions and a top-notch natural wines selection. The Burrata and risotto are classics, and even though you feel full, do not miss the opportunity to try the French toast panettone, one of our favorite things on the menu. La Cantinetta : 24 Cours Julien, 13006 Marseille
Nour d'Égypte
This place is one of Marseille's best kept secrets. For a cheap 17 euros, enjoy the all-you-can-eat oriental buffet of this Egyptian cultural center. Rose syrup, homemade lemonade with a twist of mint and ginger, squeezed orange juice, falafels, hummus, fresh cheeses and stirred vegetables: this place is a true paradise for vegans and not-so-vegans. And if you just can't get enough of the southern sun, enjoy your Mediterranean dish on the restaurant's rooftop. Nour d'Égypte : 10 Rue Bernex, 13001 Marseille
Julia Sammut, an ex gastronomy critic, opened her very own delicatessen a couple years ago. Here you'll find only fresh ingredients including herbs, fruits and vegetables, fish, cheese, olive oil, wine, butter, flour, honey, and chocolate - all meticulously selected by this food lover with strong ties to local producers all around the country. When the clock hits noon, this charming place also serves sandwiches (that you can assemble with the ingredients on display), salads and small plates. Épicerie L'Idéal : 11 Rue d'Aubagne, 13001 Marseille
This top-notch soap shop in the Panier sells the best of Marseille's well-known "savon". Its hit, the historical hypo-allergenic "Savon de Marseille" is handmade in the city by "Le Sérail", one of the oldest soap factories who uses natural and vegetal products. While you're at it, grab a Mediterranean sponge, consciously cultivated off the coast of Marseille and harvested twice a year. And to complete your basket, add a "Pierre d'Alun", a natural deodorant that can also be used as a decorative item in your bathroom. Le Bazar de César : 4 Montée des Accoules, 13002 Marseille
This gourmet restaurant overlooking the old harbor is the home of Marseille's youngest Michelin Star chef, Ludovic Turac. This 27-year-old prodigy and former Top Chef contestant has been running the place since 2013 with his wife Karine, the sommelière. Book a table for lunch and try the degustation menu : an appetizer, entrée and dessert as well as two glasses of wine and a coffee. Sit back and relax in this gorgeous contemporary decor, where the table are accessorized with custom asbtract designed plates. In 2015, Ludovic was granted his first Michelin Star, becoming France's youngest awarded chef that year. Une Table au Sud : 2 Quai du Port, 13002 Marseille
Musée Cantini
This private mansion built in 1964 houses one of the country's richest public collection, devoted to the so-called modern period of the 20th century, covering the years from 1900 to 1960s. Currently, and until September 23rd 2018, Cantini unveils impressionist masterpieces of the Burrell Collection, donated decades ago to the City of Glasgow. These paintings by Courbet, Degas, Manet, Sisley, Cézanne and many more are being shown for the first time ever in France as they have never left the United Kingdom before. Musée Cantini : 19 Rue Grignan, 13006 Marseille
Hidden away under the Corniche, this little fishing port offers strollers a thousand colourful details where traditional pointu fishing boats, fishermen's huts and turquoise water compose an ideal postcard view. Have a pizza "Chez Jeannot" or a traditional "bouillabaisse" (fish stew) on this gastronomic harbour that fills up with people grabbing a drink by the sea as the sun sets.
L'Atelier d'Agnès
In this little shop and atelier of the Panier, find the most amazing handmade ceramics. Agnès, who has been a ceramist and painter for over fifteen years, uses clay as a medium for experimentation and reflection. She certainly has this kind of "je ne sais quoi" that makes southern French handicraft so special. L'Atelier d'Agnès : 14 place des Pistoles, 13002 Marseille
This great white castle, on the heights of the Corniche Kennedy, is truly full of treasures. Behind its gates lies Marseille's best-kept secret: the only thalasso-therapy in the city. This wellness center offers a selection of treatments, form massages, to facials and body waxing. The key ingredient is the Château Berger Cosmectics anti-age formula, an outstanding product range developed in Marseille. Laurence Fogli, founder of the brand shares her mansion with plastic surgeon husband Alain, thus forming an amazing team mastering the perfect rejuvenating recipe. To make it through the day, buy the pocket-size sunscreen as well as the hydrating face spray: both indispensable to proctect your skin from the perilous Mediterranean sun all day long. Château Berger: 281 Corniche Président John Fitzgerald Kennedy, 13007 Marseille
Calanques
The Calanques National Park is Europe's biggest peri-urban park where over 9000 species of plants thrive and rare animal species come to breed. 97% of the Massif des Calanques is located in Marseille where it stretches for 20 kilometers, all the way to the little commune of Cassis. Public transportation is available to the park's main entry points; put on your hiking boots and head there in the morning for a long walk by the sea and a picnic in the middle of heaven on earth.
Jiji La Palme d'Or and Hammam Djerba
This business woman bread in the Noailles neighborhood took over her father's business a decade ago and acquired a few other boutiques since. What started off as an Oriental food and spice bazaar now sells decoration items and furniture such as berbere carpets, mirrors, oriental fountains, coffee tables, stools, embroidered cushions as well as spices, olives, nuts, and black soap. A few streets away, the very popular Jiji opened her own hammam, Hammam Djerba, the best place to get a proper cleansing treatment. Before heading to the beach, swing by to get a full black soap body scrub (30€) : the secret to a perfect long-lasting tan. This huge steam bath, decorated with magnificent mosaics and smelling of aroma oils is the perfect relaxing stop after a shopping spree. Jiji La Palme d'Or : 16 rue d'Aubagne, 13001 Marseille / Hammam Djerba, 26 rue de l'Académie, 13001 Marseille
The Frioul archipelago is a spot of great beauty with impressive cliffs, calanques, beaches and sandy creeks with clear blue water. Still a conservation area, it is an authentic encounter in the Mediterranean sea. The microclimate generates original and rare floral species, adapted to the conditions of aridity that characterize the spot. For only a tenner, board The Frioul-If express (return) and spend the afternoon on these heavenly islands, away from the city hustle and bustle.
The Olympique de Marseille boutique
This is a mandatory stop for any football lover. Paris Saint Germain's nemesis is France's most popular club right now; grab a light blue jersey or a white scarf to accessorize your outfit. Boutique OM : 44 La Canebière, 13001 Marseille
Le Panier
Go a for a walk along the streets and alleyways of Marseille's oldest neighbourhood, The Panier, discovering its iconic monuments and traditional arts and crafts. From the City Hall to the Vieille Charité, from Grand Rue to the Major Cathedral, discover the city's historic centre through its history, stories from the past and its way of life. Meet at the Tourist Office and Convention Bureau at 10:30am on Saturdays for a 2-hour guided tour (adults: 10€ reduced city-pass price / free for children under 12): 11, la Canebière - 13001 Marseille.
Cité Radieuse
This 165 meter long building imagined by architect Le Corbusier was built in the late 1940s and hosts 337 apartments, a hotel, one restaurant and a shopping alley. Resembling an urban liner anchored in a park, this edifice made of raw concrete and polychrome loggias also houses the MAMO on its rooftop, a design and contemporary art centre opened by designer Ora Ito. Register with the Tourism and Conference Office for a special tour of the Cité and access to one of the private appartments.
After a day of walking around the city, head back to the Sofitel Marseille Vieux Port hotel and have a dip in the indoor swimming pool before swinging by the terrace of the Dantès Skylounge Bar to admire Marseille's mesmerizing sunset. Trust the bartender, curl up in a cozy armchair and take in the spectacular view of the MuCEM's architecture and the sea. Before a Mediterranean dinner at the hotel's gourmet restaurant, "Les Trois Forts" by Chef Dominique Frérard, swing by your room and try out the hydro-massage showers and Hermes toiletries – after that there's no going back. Sofitel Marseille Vieux Port: 36 Boulevard Charles Livon, 13007 Marseille
Writer: Inès Bouchareb