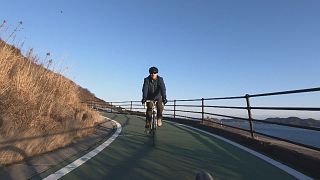 It's 60 km cycling route. There are no tolls, and it's accessible to cyclists of all levels. Indeed some cyclists could complete the route in a day if they're so inclined. It's the perfect way to experience Japan in a new way. The route connects Japan's main island of Honshu to the smaller Shikoku. In total it passes over six islands before ending in Imabari city.
Shimanami Kaidō: a magnificent cycling route linking Honshu and Shikoku via six smaller islands. It used to be paid, but now, thanks to local bike enthusiasts, has become toll-free — and easy to navigate thanks to consistent blue road markings.

?‍♂️ #VisitJapanpic.twitter.com/fmfEMCFTMu

— Denis Loctier (@Loctier) 8 mars 2018
Along the route, there are a number of attractions for those looking to rest. Fans of Hirayama Ikuo, one of Japan's most famous painters can see his work on display at Hirayama Museum on Ikuchijima Island. Ikuo was born on the island and there are a number of camping spots or hotels near the museum for those who would like to extend their stay a little longer. Plus the route offers spectacular views of the emerald green Seto Inland Sea.
It's not necessary to fly your bicycle over if you want to complete the route. There are numerous bicycle hire points along the route. Cyclists can drop their bikes off at the end, or at numerous terminals along the way if they happen to get tired and prefer to finish the remaining sections by bus.