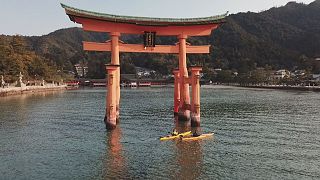 In Japanese, the word 'Torii' literally translated means 'bird abode'. They're traditionally found at the openings of Shinto shrines. Passing through them is seen to represent a special crossing, from the mundane to the sacred. The most famous of these gates is found by Itsukushima island, near Hiroshima bay.
A gate has been in place at the shrine since 1168, although this is not the incarnation we see today. The gate has been destroyed many times. The current form has been in place since 1875. When the tide is low it's possible to walk up to the gate. However, our correspondent chose the more unusual method of using a kayak. When the tide is high the gate looks like it's floating.
These days the entire area is a World Heritage site.
When visiting Miyajima, wait till a high tide and get a kayak for the best view over the iconic O-Torii gate and the Itsukushima shrine! #VisitJapanpic.twitter.com/ABw2BtrFyA

— Denis Loctier (@Loctier) 8 mars 2018