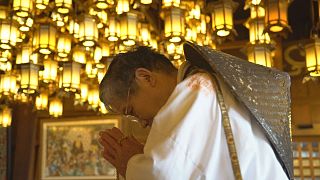 There is a feature of modern Japan which may surprise some people, pilgrims. Shikoku is the smallest of Japan's four main islands. Its history is rich and entwined with Buddhist teaching, indeed there are 88 temples on the island for pilgrims to visit.
If the traveller is making the journey on foot it takes around 40 days to visit all of the sites. At each one visitors can light a small candle, make a prayer and leave a donation should they wish.
Pilgrimage expert Hajime Onishi explained the tour: "This is a tour around the temples that are directly related to spiritual works of Kōbō-Daishi, the founder of Shingon school of Buddhism".
Shikoku Henro: worshipers (and tourists) visit 88 temples on Shikoku Island in a certain order, repeating the pilgrim's ritual that includes lighting a candle, burning an incense, depositing one's name card and leaving some coins as a donation. pic.twitter.com/410mKymT2q

— Denis Loctier (@Loctier) 8 mars 2018