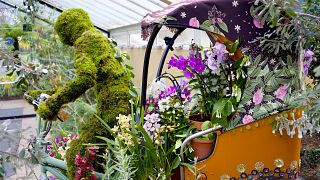 London's famous Kew Gardens put the final finishing touches to its 23rd annual colourful orchid festival on Thursday (February 8), ahead of its public opening this weekend.
This year, the festival is inspired by Thailand, a country that has around 1,000 different types of orchid.
There are 6,950 orchids of all shapes and sizes on display at the festival, which took 1,346 hours to create.
The tropical climate of the giant greenhouse gives Londoners a chance to warm up from the typically-grey, cold February weather.
Besides the colourful floral displays, visitors can learn about helping to save endangered species.
The festival will be open to the public from February 10-March 11.