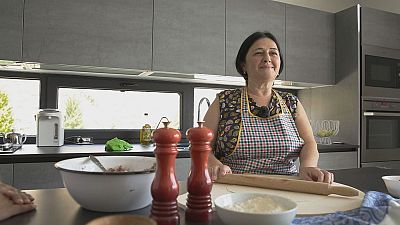 A recipe by Sayyad Xalilova
Ingredients
Wheat – 500 grams
Water – enough to make firm dough
Lamb meat – 400 gr
Animal fat – 100 gr
Salt – to taste
Pepper – to taste
Four large onions
Instructions
Knead the dough from flour and water, add teaspoon of salt, then leave it for 30-40 minutes, covered with a cloth.
Roll the dough into thin circles, about 1mm-thick and 25cm-wide.
Mince the lamb, fat and onions using a meat grinder, add salt and pepper and mix thoroughly.
Spread a very thin layer of stuffing on one half of the dough circle, cover with the other half, pinch the edges so as to obtain a crescent shape.
Fry both sides of the qutab on a non-stick frying pan without oil.
Transfer onto a plate, then apply a little bit of butter on the qutab while hot. Continue cooking the other flatbreads and stack them on top of each other, brushing their tops with butter.
Sprinkle with sumac before serving.