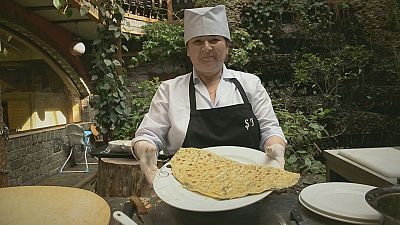 In this episode of Taste, we discover the qutab, a typical Azerbaijani delicacy.
The wealth of Azerbaijan's cuisine reflects the country's diversity, and a dish like the Qutab can vary in its composition and preparation from one region to the next.
Restaurant manager Elshad Tagiyev tells us more about this specialty.
"In ancient Azerbaijan, when they were making bread, sometimes they had leftover dough. They found a good use for it, a tasty one. They started making qutabs," he says.
The qutab is a kind of flatbread made from thinly rolled dough that is stuffed with green herbs, minced meat or cheese and is briefly cooked on a dome-shaped iron pan called saj.
"What makes these qutabs different is that we add various sauces, such as cherry-plum sauce or pomegranate sauce. They give it a special taste, a pleasant flavour," says Tagiyev.
Minced camel meat or pumpkin qutab?
Almost each region of Azerbaijan has its own recipe. To discover other ways of cooking the qutab, we went to the Caspian Sea Coast.
The Jorat qutab, one of the most typical in the country, comes from there. It can be stuffed with camel meat, greens, pumpkin or cheese, and it's cooked in an oven.
Simple yet diverse, the qutab is a multifaceted specialty. It's a fitting symbol of Azerbaijan, where you can experience all four seasons at the same time across different parts of the country – due to its unique geography and climate.
And many would argue there's always a good time for a qutab, whether it's lunch, dinner or a snack. That's why it's typically one of the first dishes tourists taste when they set foot on the 'Land of Fire'.
Azerbaijani qutab stuffed with ground beef and spinach. #baku#goeverywhereeateverythingpic.twitter.com/U6AdlKJ8JI

— Simon Majumdar (@SimonMajumdar) June 3, 2017
Qutab stuffed with good things. Lots to like about Baku pic.twitter.com/2tuFIrPYaN

— Sally Prosser (@mycustardpie) January 18, 2017