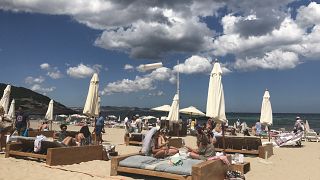 There's an entire generation for which summertime means Ibiza. And the island has learnt to cater for all tastes and needs – from noisy family holiday, to luxury R&R, meditation sanctuaries, fitness boot camps or party oriented venues.
A sight
I love Formentera with its crystal blue waters reminiscent of the Caribbean. The restaurants are simply fun, local beach huts accentuate the simplicity of enjoying the island while inland historic sites offer a cultural option. Old town Ibiza rests on a winding hilltop with cobblestone streets and local tapas bars to explore. After a perfect sunset on Experimental beach the town is a perfect place to savour the atmosphere.
A hotel
I love the elegant Destino hotel for its ample pool with spa and amazing food. Recently they opened the Izakaya boutique hotel in town that is perfectly located to walk to restaurants and bars or chill on the rooftop terrace. The Dutch brand knows how to accommodate tourists looking to party, relax and repeat.
A restaurant
Ciprianni is a great option for dinner with its open terrace, a bar option, DJ for mood music in town. For lunch Chiringuito has amazing seafood and you can call in advance to reserve a beach bed. The Beach House is another gorgeous spot on Salinas beach.
A purchase
A colorful pareo or beach wrap for your bikini is offered on many beaches by local vendors. The hippie style feels indigenous to this island so a selection of handcrafted bags, rattan, crochet or beach dresses are available in almost every beach hut or dressier garments with many beaded options of you feel like sparkling. The vibe is be yourself and relax or dress up – do as you feel.
By Natalie Lefevre