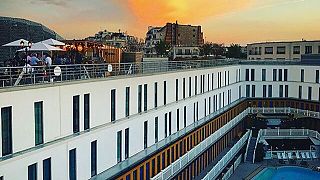 There's a magic about any Grand Slam, but of course, the French Open has the significant advantage of being in Paris, a city where spending just half a day can be a challenge….
A hotel Hotel Molitor is a short walk to the tennis grounds with an amazing terrace, spa and indoor/ outdoor large lap pool.
A purchase
It's cliched but the brand is so strong that a Roland Garros baseball hat makes a great present. Of course, every keyring also deserves a miniature Eiffel tower as well.
A restaurant
When you are talking about Paris, there are so many, although of course the variety of styles is matched by a huge disparity in qualities. While you can rarely go wrong with a simple quiche from a local pastry cafe, lunch at L'Avenue is the perfect opportunity to see and be seen. Cafe Coste's terrace at night is delicious and cool.
But my all time favourite is the New Lulu's located at the Louvre with a view over to the Eiffel tower and a mix of French and international cuisine fusion.
A sight
To pick just one, when I have time I love visiting Les Invalides, there is something beautiful about the grounds infused with history where Napoleon rests in peace.
By Natalie Lefevre