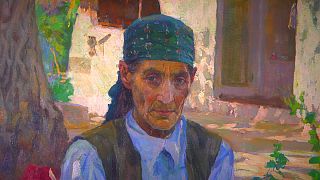 In Postcards from Uzbekistan this week we visit the State Museum of Arts in the capital Tashkent.
Visitors to this country come to see the stunning historic monuments, but it is also well worth it to check out museums like this one.
Key facts about Uzbekistan:
It's in Central Asia, with neighbours including Kazakhstan, Turkmenistan, Kyrgyzstan & Tajikistan
With a population of more than 30 million, the ex-Soviet republic became independent in 1991
The total land area is 425,400 km2, with plains covering about four fifths of the territory
The average winter temperature is -6 degrees celsius and in summer it rises above 32
Almost 80 percent of the population is Uzbek and the main religion is Muslim (88 percent)
Euronews' Seamus Kearney reported: "The museum offers visitors the chance to trace Uzbekistan's history and cultural life, with more than 3,000 exhibits of everything from ceramics to paintings, spread out over four floors."
The objects bear witness to this nation's development in the heart of Central Asia and its role as a major stop on the ancient Great Silk Road.
"This is the first and oldest museum of arts in Central Asia and it opened in 1918," Mukhtaram Shukhtarova from the museum told Postcards.
"It has a variety of objects that date from between the first century and modern times."
And revealing many different impressions of Uzbekistan's history, there is a large collection of paintings both by local and foreign artists, including many from Russia.
A new way of looking at the world. Five 360° videos reveal secrets of Uzbek treasures https://t.co/RppNfYVIVA

— Seamus Kearney (@seamuskearney_) November 18, 2016