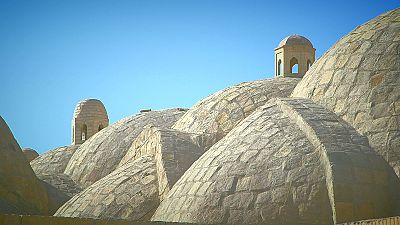 In this episode of Postcards we go shopping in the ancient city of Bukhara in Uzbekistan.
Key facts about Uzbekistan:
It's in Central Asia, with neighbours including Kazakhstan, Turkmenistan, Kyrgyzstan & Tajikistan
With a population of more than 30 million, the ex-Soviet republic became independent in 1991
The total land area is 425,400 km2, with plains covering about four fifths of the territory
The average winter temperature is -6 degrees celsius and in summer it rises above 32
Almost 80 percent of the population is Uzbek and the main religion is Muslim (88 percent)
And it's not just any market we're visiting, but those inside what are known as "trading domes", which date back to the 16th century.
Euronews' Seamus Kearney reported: "At the height of the Great Silk Road trading there were five dome-covered bazaars, but today only three remain.
"At the time they were all connected with long passages of archways."
The trading domes remain popular for locals and foreign visitors alike and they have become an iconic image of Bukhara.
"Each dome was specialised in one kind of merchandise," explained Bukhara guide Ravshan Saidjanov.
"For example, (there was) one for money exchange, another for leather and hats, and another for food, etc,"
As well as soaking up the atmosphere and stepping back in time, visitors are spoiled for choice in the dome markets of Bukhara when it comes to Uzbek souvenirs and products.
360° videos reveal secrets of Uzbek treasures https://t.co/RppNfYE842

— Seamus Kearney (@seamuskearney_) February 21, 2017