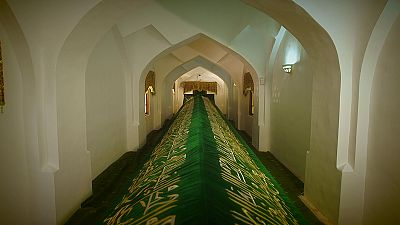 Our Postcard this week is from a sacred place in Samarkand known as the Tomb of Saint Daniel.
This is one of numerous places claimed as the final resting place of the biblical prophet Daniel.
Some say the remains were brought here by early Christians, others say the ancient ruler Timur ordered them to be buried here.
Euronews' Seamus Kearney reported: "What makes the tomb so unusual is the size, an incredible 18 metres in length.
"And there are different legends about why those who constructed the tomb made it so long.
Key facts about Uzbekistan:
It's in Central Asia, with neighbours including Kazakhstan, Turkmenistan, Kyrgyzstan & Tajikistan
With a population of more than 30 million, the ex-Soviet republic became independent in 1991
The total land area is 425,400 km2, with plains covering about four fifths of the territory
The average winter temperature is -6 degrees celsius and in summer it rises above 32
Almost 80 percent of the population is Uzbek and the main religion is Muslim (88 percent)
Dildora Niyazova, a Samarkand guide, told Postcards: "According to an old legend it's because the remains kept growing every year.
"And another legend says that it was to make it difficult for people to find the exact location of the remains."
While the debate goes on, pilgrims flock to the site, eager to walk around the tomb and pay their respects.
They also drink water from a local spring considered to be sacred.
Religious leaders here say it is a rare place where not only Muslims but also Christians and Jewish people come to pray.
360° views of the wonders of Samarkand