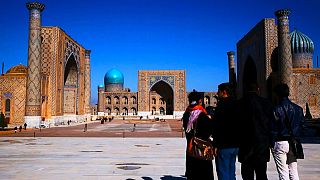 The city of Samarkand in Uzbekistan was added to the UNESCO World Heritage List in 2001 and it is easy to see why: the stunning architecture here takes you back to ancient times when the city was the capital of a powerful empire.
The history of Samarkand, which is well known for its blue domes and minarets, goes back to about 700 years BC and it was an important stop on the Silk Road between China and the Mediterranean.
The majority of monuments that can be enjoyed here were built by the ancient ruler Amir Temur (also spelt Timur) and his descendants.
Temur (1336-1405) made Samarkand the capital of his large empire, which extended from modern-day Turkey and the Caucasus to India.
The Temurid empire lasted from 1370 to 1499.
The tomb of Amir Temur can be found in a beautiful mausoleum in Samarkand, just one of many attractions where the history of the city can be traced.
Temur's sons and grandsons are also buried here, including Ulugbek, who became famous for building an observatory in the city.
You can spend hours enjoying the outside of the mausoleum, with many great angles for the perfect photograph, as the sun arches behind the dome and lights up the exquisite mosaics.
But visitors should also make sure they go inside, to enjoy the gems of the architecture of the time.
The decorative artwork is from the 14th and 15th centuries and are luxurious in their colours and intricate designs.
It is worth pointing out that this mausoleum was originally built only for Temur's grandson, Mohammed Sultan, who was killed in a military campaign in 1403.
But in the end it also became the final resting place of Temur and other male members of his dynasty.
Temur's tomb is in the middle of the main chamber and is made out of dark green jade, one of the largest pieces in the world.
The other tombs belong to Temur's sons, Shahrukh Mirza and Miranshah, and his grandsons, Mohammed Sultan and Ulugbek.
Some great grandsons are also buried there.
The largest tomb in the mausoleum actually belongs to Temur's spiritual teacher, Mir Said Baraka. Temur wanted to be buried at the foot of his teacher's tomb.
There is growing interest in Uzbekistan about the life of Temur and the legacy he left behind, with many monuments and museums dedicated to his story.
Among the many visitors to Temur's mausoleum in Samarkand are school groups.
Samarkand was also the capital of the Uzbek Soviet Socialist Republic from 1924 to 30, before Tashkent took over as capital.
But the city remains a significant cultural and economic centre and is one of the most popular destinations for tourists to the country.