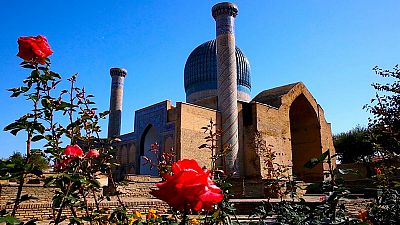 We begin our new series of Postcards from the ancient city of Samarkand in Uzbekistan.
Key facts about Uzbekistan:
It's in Central Asia, with neighbours including Kazakhstan, Turkmenistan, Kyrgyzstan & Tajikistan
With a population of more than 30 million, the ex-Soviet republic became independent in 1991
The total land area is 425,400 km2, with plains covering about four fifths of the territory
The average winter temperature is -6 degrees celsius and in summer it rises above 32
Almost 80 percent of the population is Uzbek and the main religion is Muslim (88 percent)
One of the beautiful monuments to see is the mausoleum of the ancient ruler Amir Temur.
Samarkand was the capital of Temur's large empire until his death in 1405.
Euronews' Seamus Kearney reported: "The inside of the mausoleum is also impressive. The gold-decorated room where Temur and his sons and grandsons were laid to rest is a real treat for visitors."
Perfect examples of 14th and 15th century decorative art can be found inside the mausoleum, which was originally built for one of Temur's grandsons.
Parviz Ismatullaev, a Samarkand guide, told Postcards: "The dark green tomb, which is standing in the middle, belongs to Amir Temur.
"It is made of one of the largest pieces of jade in the world. The other tombs are made from marble and onyx."
The mausoleum is just one of many historic buildings with blue domes and minarets that visitors can enjoy in Samarkand.