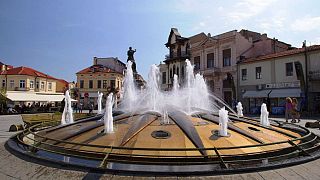 The great thing about a Macedonian holiday is that everything is so close; it's only just over a couple of hours to get from one end of the country to the other, meaning that visitors can really take in the maximum of sights.
A trip to the second city of Bitola in the south, for example, is a must for tourists. Just 15 kilometres from the border with Greece, the city has such a diverse range of sights.
The city is famous as a centre of fashion and the café and restaurant scene is big.
The historic Sirok Sokak pedestrian street, which is almost a kilometre long, is the place to see and be seen.
Locals love to share a popular saying: some people never walk down the street twice on the same day without changing their clothes.
The old Turkish bazaar with its quaint streets is also worth a visit and this is the perfect place to taste the best of Macedonian culinary delights.
As well as delicious meat and fish, the fresh vegetable dishes are popular, including peppers stuffed with cheese made from sheep's milk; eggplants cooked with tomatoes and red peppers; and bean and onion dishes. Also try the sheep's cheese grilled!
One of the places to visit is a museum where you can learn an interesting story about Mustafa Kemal Atatürk, the founder of modern Turkey: in 1899 he completed his military high school education in Bitola.
There is an Ataturk memorial room in the city museum.
Another gem for visitors is just on the outskirts of the city: the ancient town of Heraclea Lyncestis, which can be traced back to the 4th century BC.
The mosaic tiles and artwork that have been uncovered and restored really have to be seen to be believed.
Check out our slideshow of some of the highlights.
Other precious discoveries – including a mosaic wall decoration that features a peacock, and a 2nd century AD mask – can be found inside a small museum.
The country's most significant archaeological site is at Stobi, about one and a half hour's drive further north, but some of the artifacts you can see at Heraclea are just as impressive.
And the work is not over yet at Heraclea. Archaelogists continue to dig and are uncovering more ancient treasures.
We met a man slowly wiping away the earth and dust from another section of mosaic tiles.