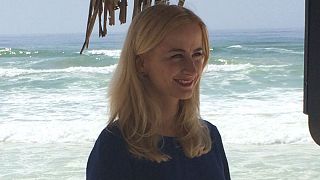 It was my first trip to the Arabian Peninsula so I was really excited about going to Oman. We started by exploring Salalah in the south of Oman. I couldn't believe my eyes when I got there because everything was so green. This region is touched in the summer by the monsoon rain, they call it "Khareef". From the end of June till the end of September rains drizzle every day, turning the region into a green paradise. Coconut, banana and papaya trees are everywhere. Amazingly, the area around Salalah produces seven different types of bananas. My favourites are the smallest variety because they are the sweetest.
We went on a tour around the Wadi Darbat nature reserve and I felt like I was in the south of France – there were green trees wherever we looked, and a river meandering along the bottom of the valley. Our guide Musallem said it was one of the most beautiful places on the Arabian Peninsula.
Our visit to the valley of the Frankincense trees was also fascinating. The Dhofor region is the main area for producing frankincense, which is known as the the "scent of Oman". We met Bedouin Achmed who showed us the techniques of getting the precious treasure out of the trees, which are more than 100 years old. Every day Achmed comes to the valley to look after his trees. In ancient times frankincense was paid for in gold. Today it's still a exquisite luxury which is used for medicine, perfume and to chase away "bad spirits".
Our journey continued to the desert of Wahiba Sands. It was my first trip into the desert and I wasn't disappointed. We slept at a desert camp, a perfect little getaway. The full moon and the silence around me made it even more magical. In our 4×4 we had some good fun driving up and down the dunes, which are up to 200 metres high and are all different colours. Stunning!
A very touching encounter was my visit to a Bedouin's house in Wahiba Sands. We rode camels to their house and I felt as if I had been transported back to ancient times. We were warmly greeted and I was fascinated by the family's mother who did all the housework. After our interview she offered to let me try on some traditional Bedouin clothes. Wearing the mask was an interesting experience!
Our journey ended in the Jebel Akhdar also known as the "green mountain". All sorts of fruits grow there thanks to the UNESCO world heritage system, which is thousands of years old. My favourite fruit was definitely the pomegranate. Oman was truly an amazing country to explore, a country from 1001 nights but with a modern touch, and more than welcoming people.