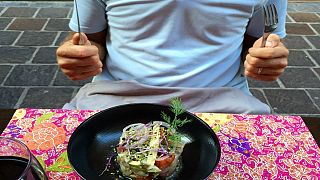 "Yummy" is the first word that comes to mind when asked about food in Monaco. Alright, I'm probably not talking about that take-away or salad bar we had to turn to in a rush between two interviews. What I mean is : if you want to eat well in Monaco, you can.
Apart from the famous starred (and expensive) restaurants, the Principality thrives with gastronomic tables, many at affordable prices. Mediterranean dishes are a safe bet of course – not to mention their low carbon footprint. When in Monaco, no need to travel far to find sun-gorged vegetables, juicy fruits and fresh fish. And eating local will remind you that real tomatoes and mozzarella are actually tasty! So are raw courgettes.
Food according to Paolo Sari
The Venitian organic chef Paolo Sari is passionate about raw food. "Cooked vegetables lose 80% of their nutrients", he insisted when he got me into trying some raw courgette flowers. He likes to mention how he drew inspiration from South-Korean monks who were 80 but looked as young as 50. He studied their diet, learnt from their kitchen and kitchen garden, and brought it all to Monaco.
I have to admit I was expecting his kitchen garden to be a picture book one. Oh well, I was in for a big surprise. Paolo Sari nurtures a profound respect for nature as it is, and his kitchen garden just looks like… REAL nature: wild but balanced. Each plant gets the space it needs to grow and prosper. For example, peach trees are not piled up as in conventional orchards, no. They were planted 5 metres apart to make sure they are comfortable. "They're like people, they need space to breathe," Paolo Sari told me. Sure enough. We'll be precisely dealing with that issue in our second episode of Monaco Life. But right now, let's stick with food.
Travel inspired
If organic is not the priority in Monaco – yet (for Paolo Sari plans on rallying the whole Rock to his crusade within three years, good luck to him!), ingredients' quality definitely is. No fake cheese on your pizza there. Locals will tell you it was not always the case but things have changed.
Creativity is high on the agenda too. Paolo Sari is not the only chef to travel the world in search for inspiration. Take Henri Geraci for example. He was taught the secrets of French Haute Cuisine by the greatests, such as François Issautier and Alain Dutournier. But he made it his own with a twist after touring Burma/Myanmar. His 'Roasted Royal Quail' has something of Asia without turning into "fusion cuisine". And it's delightful.
Born in Brittany
I was about to forget about Oysters. You see, my surname sounds typically Breton to French ears and for a reason. And you know how we, the French, can sometimes turn quite peculiar when it comes to food. On my father's side of the family, oysters are a religion – Atlantic Ocean oysters, of course. Now, how was I really to enjoy Mediterranean oysters and avoid being convicted for heresy once back home?
It proved easier than I thought. Brice Cachia, one of the two marine biologists who aims to farm oysters in Monaco, buys them as babies… in Brittany! I was saved!
More seriously, these baby-oysters are big travellers. They are 2mm long when they arrive in Monaco. They are nursed there for about four months – the most challenging part of their life, with a high mortality rate. Once they've reached 8 to 10mm, they are sold to oyster farms on the Atlantic coast (saved again!) where they'll reach adulthood in two to three years. Brice Cachia tries to buy them back then. They will mature for four weeks in basins filled with water pumped 12 metres below the surface of the Mediterranean. The specific balance of local plankton will do the trick. They'll be reborn as Monte-Carlo's Pearls. What a destiny.
I could not decently save and post these lines without emphasizing the variety on offer in Monaco as far as food is concerned. Fancy Morrocan? Check. Japanese? Chinese? Check. Carnivore? Vegetarian? Check. Indian? OK, this one is across the street, in Beausoleil, France. But still. If Monaco is a country small in size, it is by no means small in flavours. Just go and eat the experience!