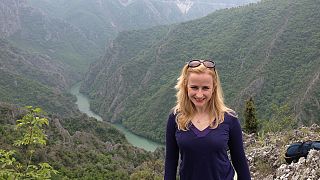 Lake Dojran is a really tranquil place. The lake is beautiful and although it's only 10 metres deep it's brimming with life. At least 15 types of different fish are found in the lake. To get to know the secrets of the lake we met two fishermen and followed them around for a whole day.
One of the fisherman, Tome Baltakov, is 82 years old and still goes out to fish. He also passes on his knowledge to the next generation of fisherman.
He told us about the ancient tradition of fishing on the lake, which relied on a very special kind of air support. The fishermen used cormorants to catch their prey. The birds would fly around and see the fish from above. The fishermen would then try to prevent the birds from actually catching the fish by throwing stones at them.
Meanwhile the fish would swim towards the shore and the fishing huts where the nets were laid out.
The cormorant were rewarded afterwards with some fish from the catch. This old tradition lasted for hundreds of years. The fishermen have names for the cormorants: The smaller one we saw was called Acko and the bigger one was called Garo.
But they mainly use more modern fishing techniques.
The other part of our story is about the famous Matka Canyon, the favourite destination for people who live in Skopje. The the trip to this wonderful landscape takes only 40 minutes.
We wanted to discover a special feature of this canyon: the famous Vrelo cave. The inside is crowded with many curiously-shaped stalactites. The biggest one in the centre of the cave is called 'the pine cone.'
There are two parts of the cave, one of which is submerged. This area is especially interesting as it could be the deepest underwater cave in the world. Several expeditions have tried to find the real depth of the cave but so far nobody has managed to reach the bottom. We met with diver Kiri Angeleski to talk about his own efforts to solve that particular mystery. He was the first Macedonian diver to enter the underwater part when he accompanied the famous cave diver Gigi Casati, who set the word record for the deepest cave dive in 2010 with a dive of 212 metres.
This mystical cave and its beautiful surrondings was a perfect way way to end our "Macedonian Life" adventure.