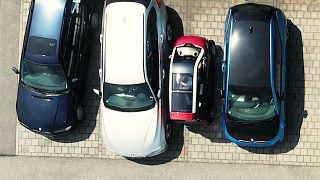 -
Copyright

City Transformer
With the EU's ambitions for green urban mobility, there's likely to be less and less parking space in cities in Europe in the future.
Paris, for instance, decided in 2020 to remove some 70,000 surface parking spots to make the city greener and more people-friendly.
One of Europe's greenest capitals, Copenhagen, passed a proposal this year to free up 600 out of 1,050 public parking spots in the city centre by 2024.
This may be a sign of the times for some drivers. But an Israel-based start-up, City Transformer, may have the answer to parking woes with its all-electric urban microcar, the CT-2.
At only 1 m wide in "city mode," the slim car is narrow enough for four of the vehicles to fit into a standard parking spot.
Given its size, the carmaker says that finding a parking spot with this urban car will be 10 times easier than with a larger car.
But in "performance mode," the car's wheelbase expands to 1.4 m and can speed up to 90 km/h. It can drive up to 180 km on a single charge.
The company said that the CT-2 can fit two people sitting in tandem, or could be used for last-mile delivery or other businesses.
The CT-2 weighs in at 450 kg, which is less than the battery in a Tesla Model 3.
"Is there a reason a person like you or me needs to manoeuvre in the city in a two-ton car and 600 kilograms of battery?" Asaf Formoza, the CEO of City Transformer, said.
Subsidies for smaller electric cars
The company plans to launch production of the CT-2 in Western Europe with an initial annual output of 15,000 vehicles by the end of 2024.
City Transformer is staying tightlipped, however, on the proposed location of the factory it has selected in Western Europe.
The CT-2 will cost €16,000 but City Transformer says it plans to lobby the European Union for subsidies for smaller EVs like the CT-2.
Formoza said larger models which already benefit from such subsidies have created space for start-ups like City Transformer by shifting away from smaller cars.
"The B [small car] segment is vanishing because carmakers make more on SUVs, so there's going to be a huge void that us and others will look to fill," he said.
For more on this story, watch the video in the media player above.