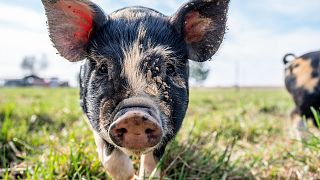 -
Scientists have made a promising step forward in repairing penis injuries in humans - by repairing injuries and restoring erectile function in pigs.
In a study published in the journal Matter, the researchers showed how an artificial sheet of tissue, which mimics the characteristics of real penile tissue, can be used to repair the reproductive organ.
They studied injuries in the tunica albuginea, a sheath of tissue that is necessary for maintaining erections, developing an artificial tunica albuginea (ATA).
"We largely foresaw the problems and results of the ATA construction process, but we were still surprised by the results in the animal experiments, where the penis regained normal erection immediately after the use of ATA," Xuetao Shi, a researcher at the South China University of Technology in Guangzhou, China, and an author of the study, said.
About half of men between the ages of 40 and 70 reportedly experience some form of erectile dysfunction.
"We noticed that this is an area that has received little attention, yet the related need is huge," said Shi.
The researchers wrote in their paper that their study shows "great promise" for penile injury repair in humans.
An effective patch
Shi and his team developed the ATA based on polyvinyl alcohol, which has a curled fibre structure similar to that of the natural tissue.
Previous attempts to repair the tunica albuginea tissue relied on patches of other tissues in the patient's body combined with an extracellular matrix, which is sometimes rejected by the immune system - and they don't mimic the function of the tunica albuginea tissue perfectly.
"The greatest advantage of the ATA we report is that it achieves tissue-like functions by mimicking the microstructure of natural tissues," Shi said. "This design approach is not limited to the biomimetic design of tunica albuginea tissues but can be extended to many other load-bearing tissues".
The researchers performed laboratory experiments to investigate the artificial tissue's toxicity and blood compatibility, before then testing it on Bama miniature pigs who had injuries to the tunica albuginea.
They found that patches made from the artificial tissue restored erectile function to a level similar to that of normal penile tissue, suggesting the patch successfully replaced the natural tissues' function.
"The results one month after the procedure showed that the ATA group achieved good, though not perfect, repair results," said Shi.
Penile injuries can be complicated to repair, Shi noted, as the tunica albuginea is usually not the only type of tissue damaged.
"Our work at this stage focuses on the repair of a single tissue in the penis, and the next stage will be to consider the repair of the overall penile defect or the construction of an artificial penis from a holistic perspective," said Shi.
He added that the researchers also plan to investigate techniques to repair other tissues, including the heart and bladder.