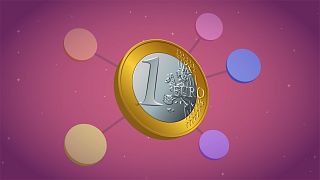 What is the timeline of the euro?
On 1 January 1999, 11 European countries fixed their exchange rates, adopted a shared monetary policy under the European Central Bank and launched the euro as their new common currency.
The euro was initially an electronic currency used by financial markets and for cashless payments.
On 1 January 2002, euro coins and banknotes were introduced in 12 European countries, replacing national currencies.
Twenty years later, 19 countries and more than 340 million Europeans use the euro. Over the next few years, three more European countries are set to adopt the euro.
Why was the euro introduced?
The aim of the euro was to make life simpler, using the same currency for work and business throughout the euro area and for travel and living abroad.
The strong international role of the euro is intended to protect the EU economy and financial system from foreign exchange shocks, reduce reliance on other currencies and ensure lower costs for EU businesses.
The euro is now the second most important currency after the US dollar. Sixty countries and territories outside the EU also use it or link their currency to it.
Who makes the euro cash?
The national central banks of the eurozone countries physically issue and withdraw euro banknotes and euro coins.
Large quantities of euro banknotes end up being taken to other euro countries and spent outside the country they were issued in.
To avoid a banknote shortage in one country and a surplus in another, the central banks have to redistribute them. These bulk transfers are coordinated centrally and financed by the ECB.
The average lifespan of a euro banknote is just three years.
The euro is an international currency, so some euro banknotes end up outside the eurozone. It is estimated that between 20% and 25% of the euro banknotes in circulation are held outside the euro area, mainly in neighbouring countries.