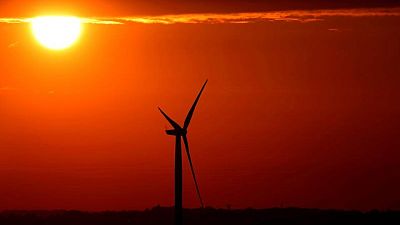 -
BRUSSELS – The European Commission announced the rules governing its green bond programme on Tuesday and said it plans the first such issuance backing its coronavirus recovery fund in October.
Green bonds, which finance environmentally-beneficial expenditure, are due to make up 30% of the up to 800 billion euros of debt issuance backing the recovery fund, which gives grants and loans to member states, until 2026.
Up to 250 billion euros of issuance is expected to double the size of the fast-growing green bond market and make the EU, which aims to be carbon-neutral by 2050, one of its most important issuers.
"It's an expression of our political goals … we want to lead by example and therefore we have to invest," budget commissioner Johannes Hahn told journalists.
"I hope we can really demonstrate to non-European countries how important it is," he said. He hoped green bonds would be more attractive than traditional debt, he said, pledging to make sure that money raised would go to climate-related projects.
Eleven EU countries have already issued green bonds and another four plan to do so, he said, with Spain due to price its first ever green bond on Tuesday as Hahn spoke.
A senior EU official said that over 40% of investments in the national reform programmes adopted to date qualify as green, suggesting potential for issuance to end up higher than 30% of the programme depending on how national plans evolve.
The EU's green bond framework, which will govern all green bonds it issues to back the recovery fund, will comply with the International Capital Market Association's green bond principles, seen as market standards.
The EU proposed in July its own green bond standards based on its taxonomy of green activities, but that is yet to be finalised.
"We have tried to anticipate as much as possible and to align with our proposal of July," Hahn said.
"The (EU) green bond standard is something which hopefully will come into force in one or two years, but now we need to have something in place in order to launch our first green bond issuances."
BILLSAUCTIONS
The Commission also announced auctions for its short-term issuance, or bills, will kick off on Sept. 15.
Two EU-bill auctions will take place per month on the first and third Wednesdays of each month.
The Commission will issue a new three and six-month bill in each first auction of the month to raise 2-3 billion euros and re-open these in the second auction of the month to raise another 1.5-2 billion euros.
Auctions to re-open outstanding longer-term bonds will take place once a month, on the fourth Monday of each month, while one new bond will be sold by syndication each month, the funding plan for the rest of 2021 said.
The first post-summer issuance is scheduled for the week starting Sept. 13.