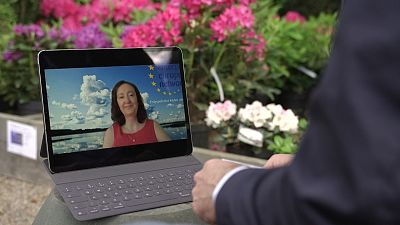 Getting the right support at the right time can be crucial in business and that's especially true at the moment with so many small firms still battling to survive the pandemic. The European Commission has put in place a number of funding schemes to help SMEs navigate the current economic crisis. To find out more, Business Planet spoke to Johanna Marin-Hyppönen, a senior advisor from the Enterprise Europe Network in Finland.
Individual EU countries have set up their own schemes to help firms get through the pandemic but in terms of EU support, what's available to SMEs?
"The REACT-EU funding is available at the moment, and the EU's recovery fund will also bring possibilities and additional funding for European SMEs, especially regarding the twin transition (green & digital transition). Part of this funding is channeled to companies through different EU-programmes, and these will have higher budgets and target the renewal of SMEs.
All in all, there are several funding instruments provided by the EU, such as grants, loans and guarantees, and many different EU programmes, for example, Horizon Europe, InvestEU, Innovation Fund, European Green Deal, LIFE, Creative Europe, Digital Europe, EU4Health, Erasmus+, EU Space programme,European Defence Fund (EDF), European Social Fund+ (ESF+), European Regional Development Fund (ERDF) etc, and many different funding programmes from the EIB and EIF."
What is the COSME Loan Guarantee Facility designed to do? And, how can small business owners and companies tap into it?
"Through COSME LGF, the European Investment Fund offers guarantees and counter guarantees, to selected financial intermediaries (e.g. national banks, guaranteed institutions, commercial banks) to help them provide loans and guarantees to SMEs which have difficulty accessing finance due to insufficient collateral.
The SME Guarantee is intended for an SME that meets the EU definition of an SME and is more than three years old from its first registration in the Trade Register.
Applying for an SME guarantee is simple – the SME's own bank files the application. The terms of the guarantee are attractive.
The SME guarantee does not require collateral and the underlying loan from a bank can be up to €150k and the guarantee rate is 80%."
What type of companies qualify for this EU financial support? Is there a specific criteria?
"A company can be a domestic company or a registered business name. The SME Guarantee, utilising COSME LGF, provides financing for enterprises operating in almost every sector; only farming, forestry and the building sector remain outside our range of financing."
You're a representative of the Enterprise Europe Network - how is the EEN supporting businesses right now?
"The Enterprise Europe Network is helping companies innovate and grow internationally. We assist companies in access to finance (both EU and national funding) and we provide advice on internationalisation and legal questions as well as market-specific information.
We also help companies in finding new cooperation partners from abroad and our services are available for companies free of charge and also in virtual format. Companies can network with potential partners via our events just by sitting in their home office and using their own laptop."
If I'm a small business owner and I want to find out more about the EEN, how can I get in touch?
"Getting in touch is easy. You can just go to the EEN's main website and get in touch with your local Network contact point by selecting the country and city closest to where your business is based. The EEN often has national and local branches, for example. The address of the Finnish EEN website is www.een.fi."