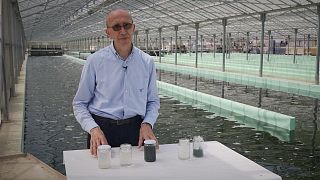 **The food and drink industry produces huge quantities of saline wastewater, but the current methods to treat these effluents are often very expensive and not eco-friendly. **
Wastewater treatment counts for around 1% of the total European energy consumption.
As part a European project called Saltgae, researchers in Italy and Slovenia are cultivating microalgae that absorb the nutrients from industrial wastewater for their growth. 
Once the water is treated, the algae are dried and can then be sold on the market to produce cosmetics, animal food or fertilizers.
A sustainable technology that could, according to the researchers, meet EU financial and environmental requirements. 
The idea is to build such algae ponds directly on an industrial site with the aim of having a more circular economy, transforming wastewater from a cost to a valuable resource.
Silvio Mangini, a technical manager for the Saltgae project says despite the benefits there are still some challenges to overcome:
"We are developing a microalgae production technology that is drastically different from conventional methods, as we are using water that comes from the food and drink industry, that has previously been selected for its chemical-physical properties.
Once the technological knowledge that we are developing here is transferred, thanks to the Saltgae project, to the food industry, it will then be an example of the circular economy...
Then, when we are able, depending on available land, or sunshine, we will consider constructing algae ponds on industrial sites such as dairies.
The main challenges to overcome are optimizing the process, creating engineering technology, and adapting the technology to different climates. 
Algae prefer hot and sunny climates, but the majority of European industries are located in areas that lack sufficient warm weather.
So we have implemented a heat treatment technology, which consists of reusing the heat, allowing us to continue the practice the using a circular economy."