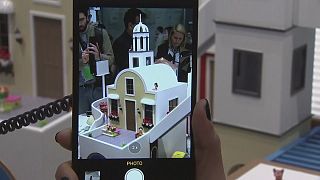 Barcelona is playing host to more than 2,000 tech companies for the Mobile World Congress.
The phone makers are aiming to fill a gap in the market left by Samsung, still licking its wounds from a costly recall of its flagship Note 7 and with no key device of its own to launch at the telecom industry's biggest annual fair.
WATCH: What's filling the Samsung gap at this year's Mobile World Congress? https://t.co/0wFizTH9oJpic.twitter.com/bpYLEx8yFr

— Reuters Top News (@Reuters) February 27, 2017
China's Huawei took the wraps off a new device in its quest to displace Samsung as the world's no. 2 smartphone maker after Apple.
For some industry analysts the hype generated by the re-launch of Nokia's iconic 3310 mobile is a damning indictment of the state of the mobile industry.
"I don't think people will get this, the point is this has become the story of the show and quite frankly it's a damning indictment of the state of the smartphone market today. It's characterized by a sea of sameness, lots of rectangular devices and Nokia too have the same problem because they are trying to get back to the market with a device like this which is their Android phone and, to be honest, if that's all they'd announced, it wouldn't have got many column inches at all," said Ben Wood, Chief Analyst, CCS Insight.
Samsung itself presented two new tablets pending the launch of its next flagship device, the Galaxy S8, expected now at the end of March rather than at Mobile World Congress, its usual showcase.
"Expect to see some of the trends which are happening in the mobile world, seeing what's happening in the 5G, in the cloud era, in the tablet and the mobile, the smartphones, anything to do with the internet anything to do with devices.
'I guess you usually see what happens, you get a sense of the ecosystem, you can see where the carriers are going with their offerings and where the mobile manufacturers are going as well," explained Kevin Kurn, Professor of Cyber Security, Austria University.
Spanish Telefonica demonstrated its first 5G remote cockpit in a car, very different to the normal kind of mobile broadband applications.
It is designed to drive remotely an electric vehicle which in this case was 70 kilometres away from the show venue.
It's the first example of a critical application showing how 5G can control machines at a distance.