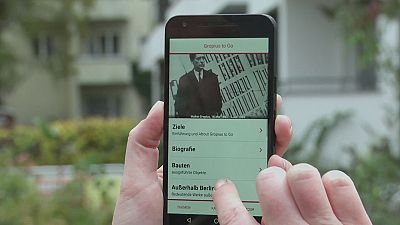 A smartphone app is bringing to life the world of the modernist architect Walter Gropius – one of the founders of the Bauhaus art school.
Walter Gropius founded the Bauhaus in 1919. Browse the Harvard Collection. https://t.co/hTsCSJdHiE

— Pratt Design (@ElainePratt) August 24, 2016
Enthusiasts can use the app to explore Gropius' buildings in Berlin one of the most visited cities in Europe and learn about the simple, functional style the Bauhaus group pioneered.
'Gropius to go' guides users to sites that were designed by the architect and sites inspired by his style. They can also follow walking tours and read about the influential architect.
"Walter Gropius is for sure one of the leading architects of the 20th century. He was a part of creating and promoting modernism. He is really a key figure in the 20th century," explained Jörg Haspel, Head of Berlin's National Monuments Department.
One of the stops is 'Gropiusstadt' – Gropius city – in Berlin. The area was designed by Gropius and his 'architects collective' in the 1950s.
By that time, he was living and working in the US, having fled Germany soon after Hitler's National Socialists came to power in the 1930s.
The app gives facts, locations and photos without any flashy graphics or technology which reflects Gropius' style with its simple functionality.
"Sparking the interest of people that might be a bit removed and have another way of looking at culture. To wake their interests, interact with them and communicate with them.
'For the younger generation that might not walk around with an art guidebook or a heavy architecture guide book. But rather walk around with a smartphone and an app to get information," added Jörg Haspel.
The app is free to download on Android, iOS and Windows devices. It's been funded and designed by Berlin's National Monuments Department with support from the Bauhaus archives. The app is currently only available in German, but an English version is in development.