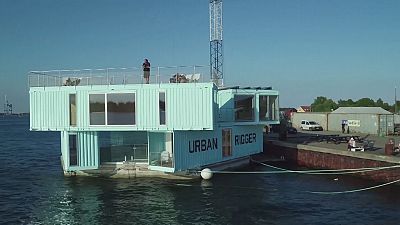 It is notoriously difficult for students to find affordable housing. So a Danish developer has come up with a solution that can be docked right in the centre of Copenhagen Harbour.
Made up of nine disused shipping containers, Urban Rigger is a prototype – a unique, carbon-neutral, floating mobile home.
Spread over around 300 square metres, it includes twelve individual dorm rooms – with bathroom and kitchen – a courtyard, BBQ area and roof terrace.
Kim Loudrup is the founder of the concept. "The problem is that all the centralised pieces of land, they are priced at a ridiculous level and when these things are sold, they're typically sold for office buildings or very expensive condos. So, whenever there is a piece of land available in a centralised situation, it just gets too costly," he explains.
The idea isn't new: repurposing shipping containers into homes became popular in California in the 1970's.
But today's concept, developed in partnership with Denmark's architectural whiz kid Bjarke Ingels, incorporates practical, environmentally-friendly tech – like using heat exchange from surrounding water to warm the pipes, or photovoltaic cells on the roof to produce clean solar energy – in an attempt to inspire future generations.
"Students, young people (are) our future in so many ways. And the fact that they've been able to get a higher education, we need to inspire them to move on with the education. I think that they are the people that are going to solve the problems that we're facing," says Kim Loudrup.
The Danish capital is among the ten most expensive cities in the world, just behind major financial hubs like London, New York and Paris. If it takes off, who knows, maybe the Urban Rigger will grace the harbours of these other cities in the future.