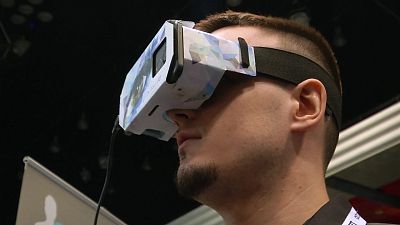 Virtual and augmented reality, health technology and mobile tech were centre stage at the annual TechCrunch Disrupt startup event in London.
The city is Europe's biggest tech hub as listed in a recent report. But it's politics which could knock it off its perch and not technology. What will happen once the country leaves the European Union?
"The two things that affect startups are money and talent, and talent is really going to be affected by Brexit, how people get visas, how people access the UK, and how people are able to hire into the UK," ventured Mike Butcher, Editor At Large, TechCrunch.
Virtual reality was of course a hot tech trend, but high-cost headsets mean many are yet to sample premium VR content.
The Polish-based RiftCat company is offering a technology that allows gamers to play high-quality VR games through simple mobile VR viewers, like Google Cardboard.
"When you have two branches of virtual reality, the PC VR and mobile VR and they both have their advantages and disadvantages. PC VR is the highest quality, but it's expensive and mobile VR is cheap because you can use your phone and put it and you have only the lenses, but it has not that much capability. So, basically we are making a bridge in between these two worlds," said Marek Antoniuk, manager RiftCat.
Virtual reality and augmented reality are becoming a popular topic following the global success of smartphone game 'Pokemon Go', for instance.
Liverpool-based SwapBots has created an augmented reality game which seems to bring simple cardboard toys to life.Users can combine boxes to create different characters.
"When you're young yourself, you imagine your toys coming to life. And now you can – I won't say replace your imagination – but you can kind of see your imagination actually living on the screen. You can see the toy itself, starting to move around, see them battle with each other," opined Phil Charnock, manager SwapBots.
Despite Brexit , London remains the European tech capital. According to the recent 'State of European Tech' report by tech investment firm Atomico the capital boasts over 300,000 developers way ahead of any other city.
And the winner of #Startup Battlefield at Disrupt London 2016 is… Seenit #1 https://t.co/MN2r5ZtDiP # via techcrunch</a></p>&mdash; APEN Startups (APEN_Startups) December 6, 2016