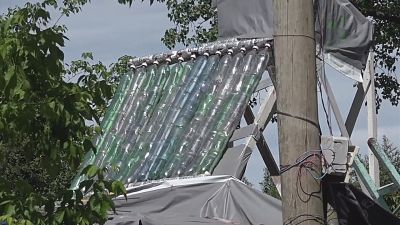 Electricity and hot water are a given in many parts of the world, but in the marginalised town of Garin, north of the Argentinian capital Buenos Aires, there used to be neither.
Things have changed thanks to ingenious but very simple solar panels made from recycled plastic bottles.
It's the result of an initiative by Argentinian NGOSumando Energias, which directly involves local communities.
"This is a poor neighbourhood and sometimes we have no light or water," says resident Luis Alberto Quinona. "These recycled solar panels help us a lot, we have children and it's useful having light and hot water even though we have no electricity."
So how does it work? The homemade system is made of used soda cans, plastic bottles and milk cartons. As the sun heats the tubes of the solar collector, hot water flows into the storage tank. Volunteers paint the pipes black to adsorb heat from the sun. In this way, the solar collector keeps water hot all night long without the need for electricity or gas.
Volunteer Julien Laurençon quit his job in banking in Singapore to work on the project.
"Sustainable development and sustainable energy are important trends that we need to follow and foster," he says. "There is too much waste today. And I'm not just talking about Third World and developing countries. I believe that developed countries, too, have to follow this trend. Developed nations are the biggest polluters," he says.
One third of Argentinians live in poverty, according to official figures, which reveal that nearly 17% have no water.
For Pablo Castaño, co-founder of the NGO, the project is innovative because it brings renewable energy to the doorstep of impoverished communities in a South American nation with many natural resources.
"Argentina has a huge potential for solar and wind energy. To give you an idea, if we had the same capacity as Germany – which is at the same latitude as Santa Cruz – in Buenos Aires or in the north, where we have a lot of sun, we could produce enough energy to supply not only Argentina but also neighbouring countries," he says.
The NGO has assembled 36 solar panels since 2014 and proposes a two-day workshop to those who want to learn how to make the solar-powered heaters.
Getting the families involved in the construction process is key to the NGO's plans to empower locals and teach them about recycling.
Angel Guelari is among those who will receive a solar-powered bathroom thanks to the initiative. "These are things that we normally throw away and which contaminate the environment. Instead, we can recycle them and get hot water in the house, for example. It's good to recycle. I never used to. I would throw away everything I used, like bottles. The rubbish would stay in plastic bags because the garbage man would not come and pick it up," he says.
The plan is to build solar panels for 3.000 families a year.
In 2005, Buenos Aires became the first Latin American city to vote for a Zero Waste policy, but environmental group Greenpeace argues investment in recycling infrastructure remains woefully inadequate.