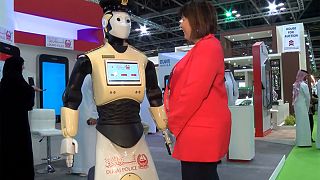 "Robot cops" will soon be patrolling the streets of Dubai.
Technology is not our end goal, it's our enabler. Our end goal is to make our people happier. But we are using technology - innovative technology - to serve people.

Director General, Smart Dubai Office
A prototype of the new android police officer was recently seen in the halls of the Gulf Information Technology Exhibition (GITEX), Dubai's annual computer and electronics show.
Equipped with a touchscreen which can be used to report a crime or process traffic violation fines, it can also salute and shake hands, and speaks English, French and Arabic.
Its interactive screen and microphone are directly connected to the Dubai Police force.
"It's a robot that has been developed 100% in Europe, in Barcelona, and we are very happy that Dubai Police has chosen us as their platform among other platforms available in the world," Carlos Vivas, Business Manager at Pal Robotics, told Euronews correspondent Rita Delprete.
Visitors to the computer and electronics show could also bump into the security guard robot. Made in the United Arab Emirates, it live-streams events going on around it and sends the data back to the control center. It's thought the robot could replace human security guards in residential areas in the near future.
The Sa'adah robot also made its debut at the GITEX. Deployed at Dubai International Airport, it will greet travellers and scan their facial expressions through built-in sensors to measure their satisfaction with customs and visa services.
Security was also the driving force behind a new car monitoring system presented at the show. Capable of analysing a driver's face, it can see if she is tired for example: if the driver closes her eyes for more than 1.5 seconds, an alarm goes off. The system also controls the driver's concentration if she is distracted.
A similar system is being used on more than 50 Dubai buses and has resulted in a massive drop in driver distraction. The plan is for all of Dubai's 1.500 buses to be equipped with the system by 2018. It's all part of Dubai's ambition to position itself as the leading smart city in the region, from transport to renewable energies.
"Technology is not our end goal, it's our enabler," said Aisha Butti Bin Bishr, Director General of the Smart Dubai Office. "Our end goal is to make our people happier. But we are using technology, innovative technology, to serve people. Later on, you will see one of our applications where we've brought almost 27 government entities together on one platform – more than 55 services that can be performed in one place. With a single payment you can perform all government services and transactions."
Also on show was an hourly car rental service, and there are plans for a Smart Parking Project that would help motorists identify free parking spots.
Finally, one of the stars of the show was the latest addition to the Dubai Police car fleet, a 160.000 euros McLaren 570S. It should feel at home alongside the fleet's other luxury racing cars that include models by Bugatti, Lamborghini, and Ferrari.