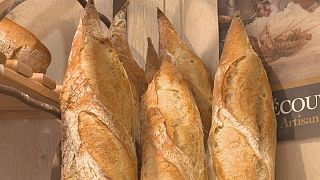 To bake quality bread, one of the key ingredients is moisture. Researchers have developed innovative ultrasonic humidification technology. In this week's Futuris, we peek into the ovens at a bakers.
Flour, yeast, water and salt. If the recipe is simple, the process is more complex than it seems, especially in the key stage of fermentation. Once shaped, the dough rises in rooms where temperature and humidity are closely controlled.
Here in Nantes, this semi-industrial bakery is testing an innovative technology where moisture is produced thanks to ultrasound.
Pascal Gouvrion, managing director, Boulangerie Patisserie Associés explained: In the controlled fermentation chamber you can see this "nano" mist which is distributed throughout the room's atmosphere. We're able to generate high humidity, sufficient, in the order of 80%, in an atmosphere that is pretty cool because our process is precisely based on a low temperature fermentation."
"There not an excessive moisture on the product. It can be tested by touching it, which is a standard test in bakers. We see something that is not dry, nor too wet, which is really what we are looking into in this fermentation phase."
In Germany, the Bremerhaven's ttz Institute was actively involved in this European research project. The ultrasonic humidification system was developed to meet the needs of bakers. Its goal: to optimize dough fermentation while saving energy.
Florian Stukenborg is head of research and development at ttz Bremerhaven: "Here we have a climate chamber, with this aerosol we can moisten products. This aerosol is produced by a mechanical process. These are mechanical vibrations. And from the surface of water, extremely fine water droplets are expelled."
"These are mixed with air, thereby producing what we call aerosol.
The difference with a conventional room is that the conventional rooms work with steam. This means that you have to convert water from a liquid phase into a gaseous phase. And this requires a lot of energy," added Stukenborg.
Bread volume, crispy crust, soft crumb, all these parameters are analyzed thoroughly. Among the benefits of this technology, avoiding condensation and also drying of the dough (during fermentation) that can affect the quality of bread after baking.
"In conventional fermentation rooms, the air humidity is lower (inside the room), and therefore the dough, which contains high humidity, tends to release moisture. This results in what is called a skin formation, said Sonja Guttman, NanoBAK2 project manager, at ttz Bremerhaven. "In a fermentation chamber humidified with ultrasound, we have a high humidity, which is substantially identical to that of the dough, so there is no dryness at the surface of the dough."
Apart from fermentation, the technology is also effective in the bread cooling phase. In the end, the bakers have to better control the humidity whatever the temperature and the outdoor climate. Once the bread is baked, the difference is felt.
"The main advantage is not necessarily what we expected, namely the gain in terms of energy consumption, certainly there is a gain, but it is more a gain in terms of quality and especially a consistent quality," said Gouvrion. "It allows us to have, regardless of the weather outside, always optimal quality fermentation and crust quality, with a crispness you see, we hear "the bread singing" as bakers say."
Ultrasound to make "bread sing", a future promise to both industrial and artisanal bakeries.