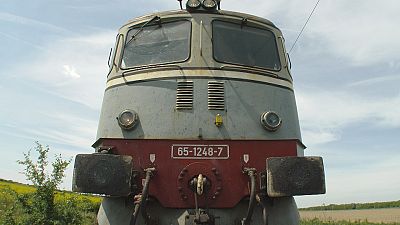 Transportation costs affect the price of any goods we buy, so reducing them could help our pockets. Road transportation is becoming more efficient with constant innovations, but what about the railroads?
Futuris has been investigating how a European research project is helping to get train freight back on track.
At a test site in Romania, engineers have been trying out an upgraded freight wagon, one that runs faster and carries a larger load than usual. Many parameters are analysed, including the braking distance.
"This braking distance test is very important. A railway vehicle should remain within a limited braking distance, otherwise there's a risk of accidents and other railway safety issues," explained Marius-Ovidiu Ene, a rolling stock laboratory expert from the AFER (Romanian Railway Authority).
Innovations are being used to make a wagon lighter and reduce damage to the tracks. Sensors and other smart technologies are also in place to monitor the condition of the wagon and the rails it moves along.
"The main innovations on this wagon are its structure, which is much lighter than usual ones, using high strength steels for the main structure elements like the middle beams, and also some interesting cold-roll profiles like these ones," said Cristian Ulianov, a railway researcher at the NewRail Centre for Railway Research at Newcastle University.
"But would it be easy to implement these innovations on European railroads?" asked Futuris reporter Denis Loctier.
Researchers see the freight industry as very conservative. In the past, ambitious innovations have failed to be adopted. That is why this project focuses on ready-to-use technologies that don't require much change in the depot.
"We take innovations, they are all innovations, used elsewhere in the industry, or sometimes not in the railway industry but in other industries, and we would bring them together in order to meet the requirements of the higher speed, the lower track forces, but they wouldn't be too novel for the industry to accept;" commented Simon Iwnicki, Professor of Railway Engineering at the University of Huddersfield.
Researchers want to make sure that faster trains do not make life more difficult for people living close to the railroad. They have been measuring noise levels as the wagon speeds by.
"There are several ways to reduce the noise – one is using sound dampening materials in the train and on the rails. Another way is to try to reduce the vibration of the moving train," explained Alexandru Patrascu, a rolling stock engineer from AFER.
To study the vibrations, researchers have developed inexpensive gyroscopes and accelerometers. Measuring damage to the tracks can prevent accidents and cut maintenance costs.
"Somebody tells me there's a problem at a site. I go to the site and I say, let's put 50 sensors, one here, here, here, here. And because they're low-cost sensors, we can afford to do that," explained Francis James Franklin, a researcher in vehicle-track interface at the NewRail Centre for Railway Research at Newcastle University.
"And they're designed to be put into place very quickly, and then we collect the information and analyse it to look for problems."
With higher speeds of up to 140 kilometres per hour, greater efficiency and reliability, researchers believe the railroad system will become more competitive – and more sustainable.
"That's the keyword of the project – the sustainability," said Donato Zangani, SUSTRAIL project coordinator.
"Especially environmental, economic, social aspects – finding the solutions that will be sustainable in the long term and make the railroad system more competitive compared to other transportation systems."
Rail transport is seen as cheaper and greener than road vehicles when it comes to long distances. It's hoped innovative thinking will put Europe's railroads on track towards a brighter future.