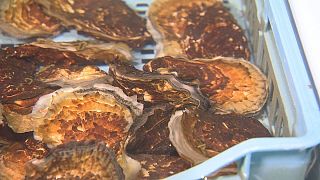 Oysters are being wiped out in Europe. But can science save them? In southwest France, oyster farmers say they have good reason to fear for their livelihoods.
One of those affected is Gérald Viaud, an oyster farmer in the region, who said: "The oyster farming cycle is three to four years. We suffer mortality rates of up to 80 or 90 per cent during the first year, when oysters are very young. Mortality rates are between 10 to 15 per cent in the second year. And then 30 to 40 per cent in the third year. At the end of the cycle, we can barely sell one out of every 10 farmed oysters."
Scientists at a European research project are trying to identify and neutralise the elusive oyster killers. Scientists have studied the role played by one virus, three bacteria and one parasite. They've learnt how the pathogens affect oysters. And they say that protecting such vulnerable animals is far from easy.
Tristan Renault, a veterinary physician and IFREMER Bivalife project coordinator, explained: "A vaccination isn't possible for shellfish. Bivalves are invertebrate animals. They lack the antibodies that are stimulated through vaccination, as is the case in human beings or land farm animals".
Several possible solutions are being studied. The most promising, despite being a slower process, is natural selection and crossing-over, researchers say.
"In oyster communities, there can be stronger and fitter individuals. They can defend themselves better against viral infections. So eventually we'll possibly cross-over the stronger specimens to obtain whole families of more resistant individuals," Renault said.
Unlike land farm animals, oysters are farmed in a complex open location, with multiple environmental factors that are difficult to control, including ocean water temperature, salinity, acidity and… pollution.
Jean-Paul Lopez, an oyster farmer, said: "You have the virus but then there's also pollution. Nitrates, pesticides, compost: everything ends up in the ocean. And then waste water from treatment plants that doesn't always comply with standards."
"Oysters grow in an open environment. Here for instance we're studying the role that a mix of 12 pesticides are playing in making pathogen agents more virulent and oysters even more susceptible to their attack," added Renault, IFREMER Bivalife project coordinator.
"We, the oyster farmers, definitely need more research done on the quality of the environment, of the water and the sediment. We need to know how to better manage our whole ecosystem," said oyster farmer Gérald Viaud.
Despite the grim reality, both researchers and oyster farmers refuse to surrender.
"I was 20 years old when I experienced the previous wave of massive deaths in the sector. If I hadn't been an optimist then, now at 63 years old I wouldn't still be in the business. I'm going to keep on fighting for oyster farming. My children still work in the business. I really hope that my grandchildren will one day also work with us in the family oyster business," explained Viaud.
More information on the research project is available at www.bivalife.eu