Supermarkets increasing price of smaller products, despite cost of living crisis hitting consumers
Comments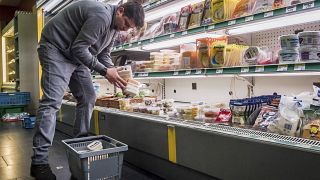 -
Copyright

Geert Vanden Wijngaert/Copyright 2017 The AP. All rights reserved.
Producers and supermarkets throughout Europe are passing on the extra inflation-linked costs of production to consumers, despite making many of their products smaller.
The practice is known as 'shrinkflation', whereby items are reduced in size and sold at the same price or sometimes for more money. Consumer associations say it has been happening for years, but given that Europe is experiencing the highest levels of inflation for decades, it is now becoming even more noticeable.
The problem is that shrinkflation is not illegal and according to Joyce Donats, a spokesperson at the Dutch Consumer Association known as Consumentenbond, people cannot do much to shield themselves from it.
"Consumers can't do a lot about it actually - the price is the price and you can't complain to the producer," she told Euronews. 
"Of course, you can be aware of the price and when it's too expensive for you, just check other labels because there are less expensive labels. That's the only thing you can do, like: 'I don't want this product. I will buy another one.'
"Maybe that will make the producer think: 'Oh, I'm not so popular anymore.' Maybe that will affect the price."
Consumentenbond says that producers and supermarkets alike should make it clear for people on the packaging when there's been a change in size and even in price.
But that is unlikely to happen, given that companies do not want to advertise these subtle price and weight changes to their customers, and that, as Donats puts it, both sides are "blaming each other".
"The producers say they only advise [on prices] and the supermarket puts the price on the product. But of course, they're both a part of this problem," she said.
Instead, the European Consumer Organisation (BEUC) - which represents 45 associations from 32 countries across the continent - has suggested setting up national price watchdogs. This would entail monitoring the cost of products and ensuring that customers have the right information on price changes, as and when they happen.
An issue of trust
As shrinkflation continues to become more noticeable to people though, trust in supermarkets and producers inevitably goes down.
One shopper in the Hague in the Netherlands told Euronews: "It's [shrinkflation] a smart move of the market, but yeah, well, what can we do? We're just numbers here in the Netherlands."
Another said that as a student it makes shopping "very expensive".
Sadly for consumers, Donats said that shrinkflation is not going anywhere anytime soon.
"Whether it stays, we don't know. I guess the shops see that it works. So, it's [probably] something that will stay. But we don't know if it will stay in this amount or if it will get a little bit less," she told Euronews.
A recent survey by Euroconsumers across several European countries found that 80% of people believe that companies are taking advantage of inflation to increase profits, demonstrating a staggering lack of trust in the businesses that most give their money to on a daily basis.
Gaining back the faith of customers will not be easy either, especially since neither side is taking responsibility.
And as the cost of living crisis continues, this lack of trust is likely to increase in size, not shrink.
At the time of publishing Euronews was awaiting a comment from EuroCommerce which represents various supermarkets across the continent.