EU-Ukraine summit is 'proof that Russia can't break us', says Zelenskyy
Comments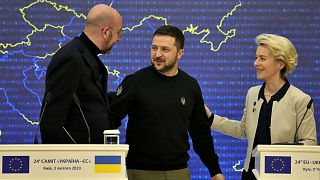 -
Copyright

Efrem Lukatsky/Copyright 2023 The AP. All rights reserved
European Union leaders met Ukrainian President Volodymyr Zelenskyy in Kyiv on Friday for a historic summit, the first time such an event takes place in a war zone.
Commission President Ursula von der Leyen, European Council President Charles Michel and foreign policy chief Josep Borrell travelled to the Ukrainian capital under high-security measures.
See our blog below for a summary of developments.
02.03.2023
11:23
Key points at a glance:
Summit is proof that Russia can't break us, says Zelenskyy
EU membership for Ukraine: EU hails Kyiv's 'considerable efforts' in accession process but does not offer fast-track path
Earlier, Council President Charles Michel vowed to support Kyiv "every step of the way" 
10th round of sanctions against Russia: von der Leyen has promised this by 24 February, the first anniversary of the war
Measures could include a price cap on the maritime trade in Russian petroleum products
The EU is examining ways to confiscate frozen Russian-owned assets that could fund Ukrainian reconstruction
The EU has also pledged energy equipment and a childcare grant for Ukraine
Air raid sirens blared across Kyiv ahead of the summit, reports Euronews correspondent Sasha Vakulina in the Ukrainian capital.
02.03.2023
16:16
'No rigid timelines on EU accession,' says von der Leyen
European Council President Charles Michel said Ukraine's next step will be decided unanimously by the 27 member states.
"The European Council, by the end of the year, will have to look at the report by the Commission and will have to make a decision by unanimity. This is how it works," Michel told reporters.
"I'm confident that, by the end of the year, the European Council will have to address the question of what's the next step in terms of the accession process."
02.03.2023
16:05
EU hails Ukraine's 'considerable efforts' over accession process
The European Council has published a joint statement by President Charles Michel, Commission President Ursula von der Leyen and Ukrainian President Volodymyr Zelenskyy following the historic summit in Kyiv.
As expected, it falls short of Kyiv's demands for a fast-track process towards joining the EU, but praises Ukraine's commitment and progress so far. Here is the relevant section in the text:
Association Agreement, including a Deep and Comprehensive Free Trade Area, and the Accession Process
We reiterated our commitment to further deepening our relationship, based on common values and close and privileged links. The EU-Ukraine Association Agreement has been and continues to be of essential importance in facilitating and promoting Ukraine's further integration with the EU. The EU recalled the decision by the European Council to recognise Ukraine's European perspective and grant to Ukraine the status of a candidate country. The EU reiterated its commitment to support Ukraine's further European integration. The EU will decide on further steps once all conditions specified in the Commission's opinion are fully met. Ukraine underlined its determination to meet the necessary requirements in order to start accession negotiations as soon as possible.
 
The EU reiterated that the Commission has been invited to report on the fulfilment of the conditions specified in the Commission's opinion on Ukraine's membership application as part of its regular enlargement package in 2023. Without prejudice to this comprehensive regular reporting, we take note of the Commission's intention to provide an update in spring 2023 which will also be conveyed to Ukraine through the appropriate channels.
 
The EU acknowledged the considerable efforts that Ukraine demonstrated in the recent months towards meeting the objectives underpinning its candidate status for EU membership, welcomed Ukraine's reform efforts in such difficult times, and encouraged the country to continue on this path and to fulfil the conditions specified in the Commission's opinion on its membership application in order to advance towards future EU membership.
02.03.2023
15:57
EU accession talks should start 'this year', says Zelenskyy
By Euronews Brussels correspondent Jorge Liboreiro.
Ukrainian President Volodymr Zelenskyy has thrown down the gauntlet to the EU, saying formal accession negotiations to join the bloc should start "this year." 
"We've already started preparing for those negotiations. We expect the respective decisions to be made by the European Commission and the European Council," Zelenskyy said, speaking through a translator. 
"The goal is to start negotiations this year. And this is not just a purpose but a major overwhelming goal." 
Last year, Brussels gave Kyiv a set of seven reforms to implement as part of its accession bid, including the fight against corruption and the excessive influence of oligarchs in the economy. 
Speaking next to him, Ursula von der Leyen avoided any comments on the ambitious timeline and instead said Ukraine's determination was "impressive" and its work would be reflected in a report due in autumn. 
"You're taking important steps, with all the reforms forward, to meet the recommendations. And we should not forget, you are doing this while you are fighting against an aggressor," the European Commission president said. 
"Besides reforms, it's important to have a good track record on implementation. I know you're working hard on that too." 
"Rest assured that your progress will be reflected in our important enlargement report that is due in autumn for the member states," von der Leyen added. 
"I'm confident that you will keep up the good pace because you know what is good for your country. And these reforms will anchor Ukraine in our family of free and liberal democracies."
Accession is a highly technical and complex process that can take years, even decades, to be successfully completed.
02.03.2023
15:41
Summit is "proof that Russia can't break us", says Zelenskyy
Ukraine's President Zelenskyy is holding a joint news conference at the conclusion of the historic summit, alongside Commission President Ursula von der Leyen and Council President Charles Michel.
The fact that we managed to have this summit here is a proof that Russia can't break us, the Ukrainian leader said. 
He added that Ukraine's EU integration is irreversible and the integration process should be sped up this year, with accession talks beginning as soon as possible.
"Our goal is to start the talks already this year," he said. 
02.03.2023
11:59
What are the prospects for Ukraine's EU membership?
One of the EU's messages is likely to be bitter for Ukraine: there will be no fast-tracking for Ukraine's bid to become a member. 
Kyiv has said recently it is hoping to become a full member by 2026 despite previous warnings, notably by French President Emmanuel Macron, that the accession process can take "decades".
The Commission is currently working on a technical assessment of the fulfillment by Ukraine, Moldova and Georgia — who have also put  in bids since Russia launched its invasion on 24 February — of key criteria to become a member.
This from Sasha Vakulina in Kyiv ahead of the summit:
"Brussels is set to encourage Kyiv to continue reforms needed for EU membership, while Kyiv wants to get more details and more clarity on when would that happen, given that Ukraine has been implementing some of these reforms while at the same time defending itself (against Russia) for almost one year now. The EU-Ukraine summit is all about both sides managing their expectations."
02.03.2023
11:48
Von der Leyen highlights energy pledge
The European Commission president is expected to unveil more details of EU sanctions against Russia on Friday -- as well as concrete aid for Ukraine.
"We will introduce with our G7 partners, an additional price cap on Russian petroleum products, and by the 24th of February -- exactly one year since the invasion started -- we aim to have the 10th package of sanctions in place," she pledged upon arrival in Kyiv on Thursday.
On Friday she highlighted aid on energy in this tweet:
02.03.2023
11:41
Why is the summit being held in Ukraine?
This from Euronews correspondent Sasha Vakulina in Kyiv, speaking ahead of Friday's meeting:
"Ukrainian authorities insisted that the EU-Ukraine summit should take place here in Kyiv and not in Brussels. They wanted the delegation of senior EU officials to see how the country is operating, how they are introducing measures and requirements whilst at the same time defending itself for almost one year, something that Kyiv certainly believes deserves EU membership."
02.03.2023
10:28
EU readying 10th package of sanctions against Russia
The summit today was preceded by a meeting yesterday between EU Commissioners and the Ukrainian government.
At the end of day of meetings, the Commission chief told reporters that "by 24 February, exactly one year since the invasion started, we aim to have the tenth package of sanctions in place."

A prospect Zelenskyy appeared to welcome, deploring that "the pace of sanctions in Europe has slowed down a bit, while the terrorist state is increasing the pace of adaptation to sanctions. It is worth catching up, and it is worth fixing it."
Catch up on Thursday's meeting here:  
euronews
One of the EU's messages is likely to be bitter for Ukraine: there will be no fast-tracking for Ukraine's bid to become a member. #EuropeNews