Zelenskyy tipped to visit Brussels this week for EU leaders' summit
Comments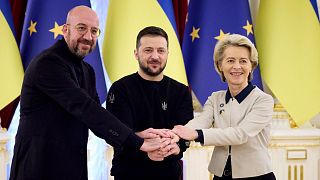 -
Copyright

Ukrainian Presidential Press Office via AP
Ukrainian President Volodymyr Zelenskyy is expected to be in Brussels on Thursday as EU leaders gather for a summit although security reasons could yet thwart the visit, a senior EU official confirmed to Euronews.
The official added that Zelenskyy's trip to the Belgian capital would likely start with an address to an extraordinary plenary session of the European Parliament. 
He would then join EU leaders convening for a special summit to discuss migration, the bloc's response to the US Inflation reduction Act and support for Ukraine, including through a tenth round of sanctions against Russia. Zelenskyy has joined these summits virtually multiple times since the war started to update leaders on the situation on the ground.
The potential visit, which was first reported by La Stampa and the Financial Times, would be Zekenskyy's second official trip outside Ukraine since the Russian onslaught started on 24 February. He visited Washington in late December to deliver a speech at Congress and hold a meeting with US President Joe Biden.
It would come a week after EU Commissioners headed to Kyiv for meetings with the Ukrainian government followed on Friday by an EU-Ukraine summit attended by Commission chief Ursula von der Leyen and European Council President Charles Michel. 
They said then that "there is an open invitation to President Zelenskyy to visit Brussels" to which the Ukrainian leader replied: "I really want to travel but there's a very significant risk because of Russia's attempt to have a revenge."
He also once more reiterated his wish for Ukraine to join the EU as quickly as possible as well as his call for more financial and military assistance, especially long-range weapons, as Ukrainian forces prepare for a new Russian offensive they expect to begin later this month to coincide with the one-year anniversary of the war.
"We are confident in our victory but long-range weapons can make our victory faster. Ukraine knows about this, Russia knows about this and Brussels knows about this," Zelenskyy said on Friday.
The bloc has so far provided roughly €60 billion of aid to Ukraine, including €12 billion in military support, €38 billion in humanitarian and macro-financial assistance and €10 billion to support Ukrainian refugees that have sought refuge in EU member states. 
Western allies are also ramping up deliveries of heavy weapons with several EU member states, including Germany and Poland, announcing that they would soon deliver Leopard 2 tanks to the war-torn country.