Von der Leyen promises 10th package of Russian sanctions in visit to Kyv
Comments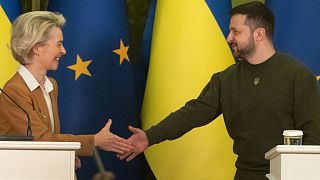 -
Copyright

AP Photo/Efrem Lukatsky
European Commission President Ursula von der Leyen has promised to slap Russia with a new package of EU sanctions marking the one-year anniversary of the war in Ukraine.
The pledge was made during a high-profile visit to Kyiv, which saw 15 European Commissioners meeting with their Ukrainian counterparts to deepen cooperation and legislative alignment.
"Russia is paying a heavy price, as our sanctions are eroding its economy, throwing it back by a generation," von der Leyen said, speaking next to Ukrainian President Volodymr Zelenskyy.
"By 24 February, exactly one year since the invasion started, we aim to have the tenth package of sanctions in place."
Von der Leyen did not give any details on what sectors or exports will be targeted.
As Russia prepares a new military offensive in the east, Zelenskyy urged the bloc to increase the financial pressure on the Kremlin.
"We see that the pace of sanctions in Europe has slowed down a bit, while the terrorist state is increasing the pace of adaptation to sanctions. It is worth catching up, and it is worth fixing it," Zelenskky said, speaking in Ukrainian.
'Making Putin pay'
The EU and the G7 are currently negotiating the final details of a plan to impose a price cap on the maritime trade of refined petroleum products made in Russia, following a similar initiative that limited the price of Russian seaborne crude to $60 per barrel.
The crude cap, imposed in early December, is costing Moscow €160 million per day, von der Leyen said, an apparent reference to a recent report released by the Centre for Research on Energy and Clean (CREA).
Von der Leyen also said her team is working to design legal ways to enable the EU to confiscate the Russian-owned assets that have been frozen across nine packages of sanctions, including billions of foreign reserves held by the Russian Central Bank.
"We are making Putin pay for his atrocious war," von der Leyen said.
The extra funds raised through confiscation are meant to pay for Ukraine's reconstruction, which the European Commission estimates to be worth at least €600 billion.
Von der Leyen, however, did not offer any new hints on how confiscation, an unprecedented and risky idea, will be made legally possible.
As a first step, she said, the Commission will provide €1 billion in "fast recovery" funds to cover Ukraine's most urgent needs.
During the joint press conference, von der Leyen welcomed the raids recently conducted by Ukrainian police as part of a corruption scandal involving illicit payments to deputy ministers and over-inflated military contracts, which led to the dismissal of several top officials.
Reforms in the fight against corruption are one of the seven conditions that the Commission introduced in Ukraine's bid for EU membership.
"I am comforted to see that your anti-corruption bodies are on alert and effective in detecting corruption cases," von der Leyen said.
Other announcements made by von der Leyen included a €150-million initiative to purchase vital energy equipment for Ukraine, the sending of 2,400 electricity generators and a memorandum on renewable gases, as well as a €10-million grant to support childcare.
"Putin's war has taken away their parents and has shattered their lives," von der Leyen said.
"We cannot mend this, but we can offer to comfort their pain and help the best we can."
The trip to the Ukrainian capital by the European Commission chief and 15 of her commissioners is to be followed on Friday by an EU-Ukraine summit where European Council President Charles Michel will join von der Leyen for talks with Volodymyr Zelenskyy. 
'Reform momentum'
Commissioners focused their meetings with Ukrainian officials on "deepening sectorial cooperation in relevant areas, " an EU official said ahead of the trip. 
The EU and Ukraine are currently bound by a Deep and Comprehensive Free Trade Area (DCFTA) and Kyiv is now also an official candidate country for accession to the EU. Achieving full membership requires the country to take a number of reforms to strengthen its institutions and rule of law and align itself closely with EU legislation.
The bloc, the official said, "noted the reform momentum that is ongoing in Ukraine, in particular in the area of the rule of law", and some of the discussions between the EU executive and the Ukrainian government will therefore address recent efforts to crack down on corruption and to strengthen the judiciary independence.
Other discussions were to focus more on how to "further bring down barriers, further bring down trade impediments to speed the flow of exports and imports between the EU and Ukraine," the EU official said. 
Talks there aimed to boost alignment of domestic legislation in several key areas including telecommunications, financial services, product safety, market surveillance, as well as sanitary and phytosanitary measures.
Further financial, humanitarian and military support were also expected to be discussed. The EU has so far earmarked €60 billion in assistance for Ukraine including nearly €12 billion in military support, €38 billion in humanitarian and macro-financial support and €10 billion for member states to deal with the influx of Ukrainian refugees. 
Sanctions against Russia and Ukraine's reconstruction needs were also on the agenda. 
The trip to the Ukrainian capital by the European Commission chief and 15 of her commissioners will on Friday be followed by an EU-Ukraine summit where European Council President Charles Michel will join von der Leyen for talks with Volodymyr Zelenskyy. 
High representative Josep Borrell is meanwhile expected on Friday to announce a doubling of the EU's target of training Ukrainian troops to 30,000 by the end of the year as well as a new €25 million package to support the humanitarian demining of areas reconquered by Ukrainian forces.  
Brussels and Kyiv were also expected to back the creation of an International Centre for the Prosecution of the Crime of Aggression in Ukraine to be established in The Hague with the objective of coordinating the investigation of crimes committed in Ukraine by Russia and preserving and storing evidence for future trials. 
Hopes of quick membership likely dashed
But one of the EU's messages is likely to be bitter for Ukraine: there will be no fast-tracking for Ukraine's bid to become a member. 
Kyiv has said recently it is hoping to become a full member by 2026 despite previous warnings, notably by French President Emmanuel Macron, that the accession process can take "decades".
The Commission is currently working on a technical assessment of the fulfillment by Ukraine, Moldova and Georgia — who have also put  in bids since Russia launched its invasion on 24 February — of key criteria to become a member, which is now schedule to be released later in the year.
A senior EU official stressed to reporters that while the steps taken by the war-torn country under the current circumstances will be acknowledged, the bloc will not deviate from its methodology for Ukraine. 
"There is a need to apply a considerable methodology towards the assessment of the progress towards what is actually quite a complex process of membership throughout each and every single sector of the acquis," the senior EU official said. 
"It's very difficult to shorten that period so we will do that as with other candidates who are progressing the same. So we will do that absolutely with even more effort, of course, with Ukraine given the current circumstances but we will apply the same methodology because I think it's important that the legitimacy of the methodology be upheld," they added.