Battle over food labels looms as Brussels prepares to make EU-wide decision
Comments
By Vincenzo Genovese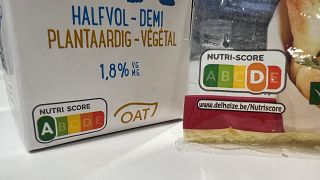 Brussels is to approve an informative food label in the coming months to be used throughout the EU.
The European Commission explained to Euronews that the evaluation is still ongoing, but among the options is the Nutri-Score, a traffic light label already used in seven countries, including Belgium, France, Germany and Spain.
"I think it's good advice. I'll look for that from now on," one Belgian shopper told Euronews.
The Nutri-Score is a five-colour scale that indicates the nutritional quality of a product, taking into account a fixed quantity of 100 grammes or millilitres.
Protein, fibre, fruit and vegetables increase the rating, whereas other elements such as sugar, fat and salt lower it, with the end result ranging from a green A to a red E.
But many people do not like it, including the Italian government and Coldiretti, Italy's Farmers' Association. According to Italian MEP Herbert Dorfmann, the Nutri-Score provides a "misleading" indication, which penalises national delicacies, like hams and cheeses.
"There are unfortunately many examples that show how the Nutri-Score can mislead the consumer," he told Euronews.
"The Nutri-Score talks about the quality of a product without talking about the quantity and I remain convinced that in nutrition, quantity counts for a lot. 
"There is a big difference if I eat 50 grams of speck [ham] or if I eat 500 grams. The Nutri-Score does not take that into account at all."
It also does not take into account the degree of food processing or the additives present, only its nutritional balance. This is why wholesome, but fatty foods, like olive oil and butter often have lower ratings than packaged foods rich in preservatives.
For its advocates, however, the Nutri-Score has more pros than cons. Especially if it is used to compare similar foods.
"To be efficient, a front-of-pack nutrition label needs to fulfill some criteria: it has to be colour-coded, mandatory, based on independent scientific evidence ... And it looks like the Nutri-Score ticks all the boxes," Pauline Constant, Head of Communications at the European Consumer Organisation (BEUC), told Euronews.
"So, this is why at the moment, Nutri-Score is the best candidate for a wide nutritional label in Europe."
BEUC cites more than 100 independent scientific studies in support of the Nutri-Score's traffic light label and hopes that the Commission will soon propose it to member states.
If this is the case, the important thing to understand is that the Nutri-Score remains only a very immediate summary of a food's nutritional table: it does not tell us how healthy it is, only how balanced it is.